20 pampered pups with celebrity owners
Just like the rest of us, celebrities and those under the microscope of popular culture have always loved a canine companion.
The celebrity lifestyle can be hugely demanding, and there must be no better way to wind down after a gruelling day in the spotlight than a cuddle with your beloved pooch.
The explosion in social media has made the world of celebrity pets more visible than ever before. Instagram, in particular, is crammed with adorable images of famous folk and their beloved animals.
Another trend we've been heartened by is the growth in celebrities adopting dogs from animal shelters, replacing these animals' sometimes difficult early lives with new ones full of love and, of course, every conceivable creature comfort.
Here's our list of 20 pampered pups and their famous owners – let's just hope they'll all covered with suitable pet insurance.
Kylie Jenner and Kevin
The 217 million Instagram followers of model, reality TV star and businesswoman Kylie Jenner will, by now, be quite familiar with her new Italian Greyhound pup, Kevin. The post Kylie used to introduce Kevin to the world was liked by more than five million people. Jenner has owned nine pups over the years: Kevin joins fellow Greyhounds Norman and Bambi, Kylie's first pets, along with their puppies Harlie and Rosie. Another recent addition was Wesley, a rescue Chihuahua Dachshund mix, who joined the Jenner clan in 2019.
Amanda Holden and Rudie
Actress Amanda Holden spent the lockdowns working on her breakfast radio show from home – while looking after her two children and two pets. Alongside her cat Muffy, Amanda is the proud owner of Rudie, a Jack Russell / Yorkshire Terrier cross. Rudie made himself known to the nation early in lockdown when, while his owner was discussing the pandemic with co-presenter Jamie Theakston, he barked live on air. "He won't leave my side, it's very sweet," Amanda told her listeners proudly.
Ruth Langsford, Eamonn Holmes' and Maggie
Presenters Ruth and Eamonn have a beloved jet-black Collie cross called Maggie. In fact, the dog is so much loved that they have made a life-size bronze replica of her. Interestingly, the statue came about because Eamonn had planned to have Maggie stuffed by a taxidermist after she passed away. Ruth didn't like the idea of this – but the couple were able to agree on a statue. "It's like having two dogs in the house," Eamonn told the Dogma podcast. "Maggie looks at this other dog and thinks it's alive!"
Ant McPartlin and Milo, Bumble and Hurley
The I'm a Celebrity presenter is a big doggie fan. Alongside his two Maltese / Toy Poodle crosses (or Maltipoos) Milo and Bumble, Ant shares his chocolate Labrador Hurley with ex-wife Lisa Armstrong. The two were married for 12 years, and one of the key items in their separation was an agreement to share the custody of Hurley, who spends a week in each household on rotation.

Labradors are loyal and hugely lovable dogs who do, however, come with the potential for health complications including hip and elbow dysplasia, and obesity. We're sure that Ant has invested in some good pet insurance.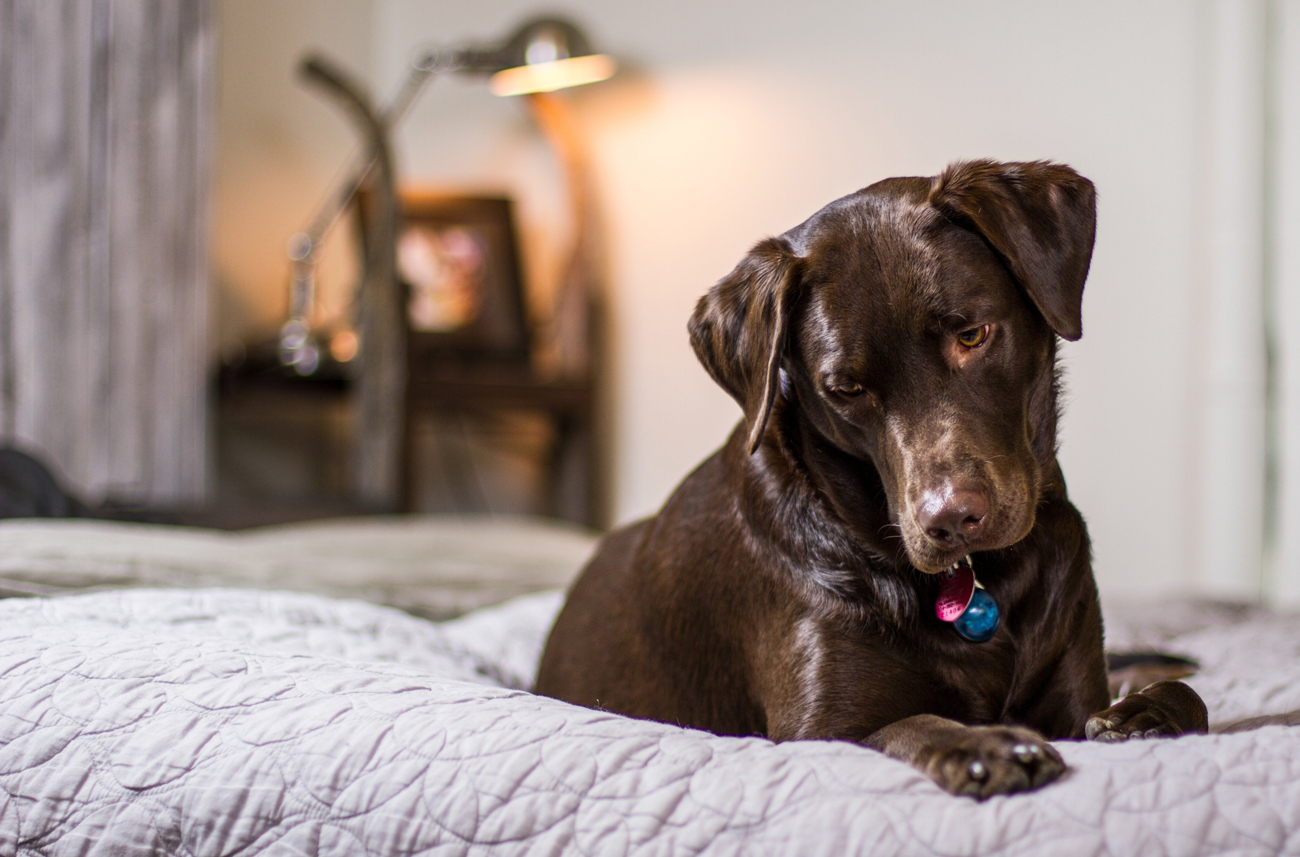 A similar Chocolate Labrador
Declan Donnelly and Rocky
Staying with the I'm a Celebrity theme, Ant's perennial partner in crime Dec is also a dog lover – and proud owner of the adorable Dachshund Rocky. Surely one of the canine kingdom's most photogenic members, Dachshunds are another dog, like Ant's Labrador above, who can be prone to health issues. With these little chaps, the problems tend to be related to those short little legs that carry a relatively long body – meaning that they are prone to back injuries. The specialist advice is not to let them jump on and off furniture – and only allow them to use stairs when essential. We'd round off that advice with the need for some reputable pet insurance.
Simon Cowell and Freddie, Squiddly, Diddly and Daisy
The Britain's Got Talentjudge is very attached to his three Yorkshire Terriers, Freddie, Squiddly, and Diddly, and his rescue dog Daisy. "I love my dogs so much. I take them on holidays, I let them sleep in the bed, and sometimes one gets in the bath with me," he once told US Weekly. Cosy. No surprise, then, that the often hard-to-impress Cowell tends to give a warm reception to any dog acts on the ITV talent show.
Lorraine Kelly and Angus
The chat show presenter took possession of Angus, a Border Terrier, back in December 2018. Angus has already been up to some tricks: he chewed up his doggie passport during a holiday on Spain's Costa del Sol, and had to be issued with a new Spanish passport to allow him to get back home to the UK. This means that little Angus has dual nationality! If you're planning on taking your pup abroad, make sure you've got the right pet insurance in place.
Rochelle and Marvin Humes and Ginger
It was back in February 2019 that the couple, co-presenters of the BBC TV show The Hit List, welcomed Cocker Spaniel / Poodle cross Ginger into their lives. Ginger is already something of a presence on social media, with more than 31,000 followers to her Instagram account. Those followers are treated to some beautiful insights into Ginger's home life alongside Rochelle, Marvin and their three children Alaia-Mai (8), Valentine Raine (4) and baby Blake Hampton.
The Obamas and Sunny
One of Barack Obama's first acts on becoming elected US President in 2009 was to fulfil a promise to his daughters: he obtained a hypoallergenic dog for the family. The dog in question was Bo, a male Portuguese Water Dog: this species has non-shedding hair, instead of fur. Bo became a prominent and much-loved member of America's First Family and, in August 2013, was joined by Sunny, a female of the same breed. Bo sadly passed away in May 2021. Both animals delighted in the name of 'First Dog of the United States', joining an illustrious lineage that also includes Bill Clinton's Labrador, Buddy and Joe Biden's two German Shepherds, Champ and Major.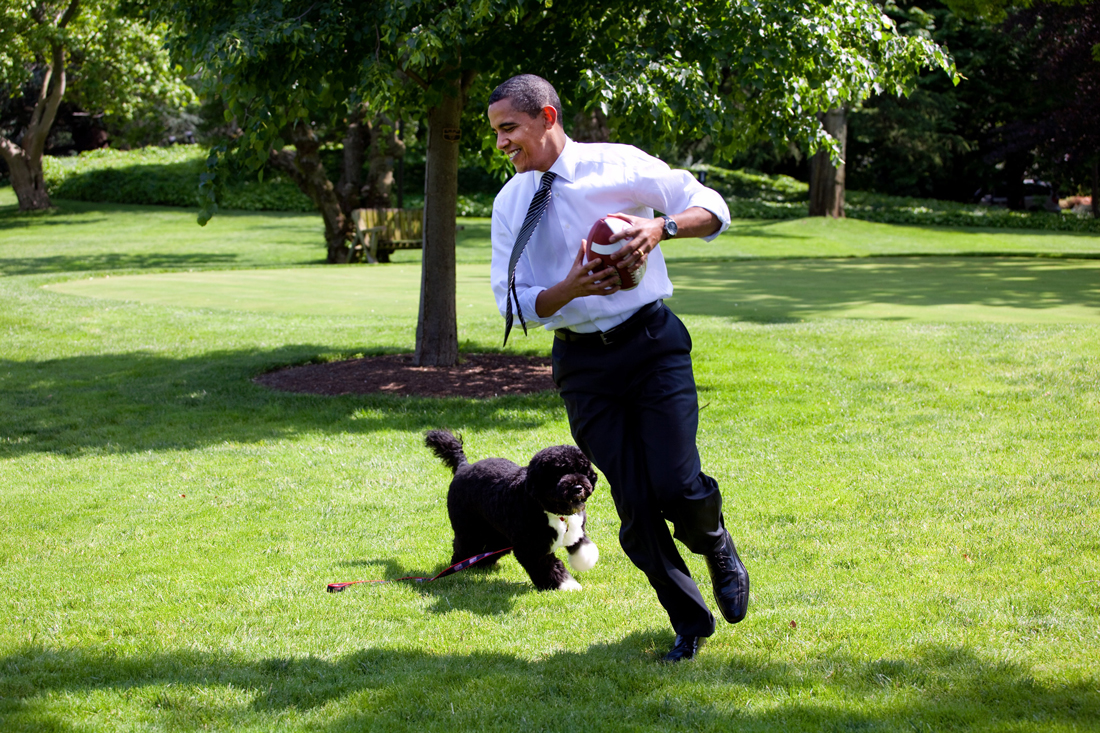 The Beckhams and Olive, Coco, Scarlet, Barnaby and Fig
To their not-so-very-small family of four children, David and Victoria Beckham have also added no less than five dogs – including Olive, a Cocker Spaniel; Bulldogs Coco and Scarlet; Barnaby, a Chinese Shar-Pei; and Fig, a beautiful black Spaniel. Fitting right in with the family's taste for glamour, Olive graced the cover of Vogue in 2018.
Spaniels can be prone to a variety of illnesses including orthopaedic issues, epilepsy, heart diseases, liver disease and – thanks to those adorable floppy ears – ear infections, so some good pet insurance is recommended to all owners of these lovable, intelligent dogs.
Jennifer Aniston and Lord Chesterfield
Already a 'dog mom' to Clyde, a Schnauzer mix, and a white Pitbull named Sophie, actress Jennifer Aniston added to her canine family last year with the adoption of Lord Chesterfield, a Great Pyrenees Puppy. She's since delighted her Instagram followers with photos of the trio romping around the garden of her £15 million mansion in Bel Air, Los Angeles. Aniston noted that Lord Chesterfield 'stole my heart immediately', and soon after adopting him shared a cute video of him sleeping off a long play session.
Cara Delevingne: Bowie and Hendrix
Could there be some clues to Cara Delevingne's music taste in the name of her two fostered puppies, Bowie and Hendrix? The actress obviously enjoys her 1960/70s rock. Already the owner of chihuahua terrier Alfie and Pomeranian/husky crossbreed Leo, Cara fostered the musical duo from Los Angeles' Labelle Foundation during lockdown.
Ariana Grande and (deep breath) Ophelia, Fawkes, Cinnamon, Coco, Lafayette, Sirius, Strauss, Pignoli, Toulouse and Myron Grande
Singer Ariana Grande shares her home with no fewer than 10 pups, all of them rescues. The large family includes two Labradoodles, a Bloodhound, a Dachshund-German Shepherd cross and an American Pitbull. That mix must make for some interesting and eventful exercise sessions! Pet insurance is a must if you have more than one dog at home as vet treatment can get expensive.
Reese Witherspoon and Hank, Lou, Minnie Pearl and Major Witherspoon
Hollywood actress Reese Witherspoon loves nothing more than showing off her four furry companions to her 25 million Instagram followers. A quick scroll down Reese's newsfeed will yield dozens of pictures of chocolate Labrador Hank, American Bulldog Lou, French Bulldog Minnie Pearl and black Labrador Major. And whatever they are up to, they look some of the happiest, most pampered pooches out there.
Amanda Seyfried and Finn
If you're looking for a pet that has embraced the celeb lifestyle down to every last particular, look no further than Finn, the Australian Shepherd belonging to Mamma Mia! actress Amanda Seyfried. Often referring to him as her best friend, Seyfried has also revealed that she specifies, in all her work contracts, that Finn be allowed on set with her: the big fellow is "a non-negotiable entity in my life."
Paris Hilton and Dollar, Prada, Peter Pan, Marilyn Monroe and others
Now, these dogs are probably the very definition of the 'pampered pooch'. The colourful hotel heiress, businesswoman and socialite Paris Hilton has owned more than 10 dogs – and has treated them lavishly, including housing them in their own dog mansion. Featuring a view of the nearby swimming pool, this 300-square-metre mansion has been valued at $325,000 (or £230,000). Occupants of the mansion have included Dollar the Miniature Pinscher; Prada and Peter Pan, both Chihuahuas; Pomeranians Harajuku Bitch and Marilyn Monroe; and Mugsy, the Pug. This last breed is prone to both respiratory and eye problems, so we imagine that amid all that lavish expense, Paris has found the budget for some reliable pet insurance.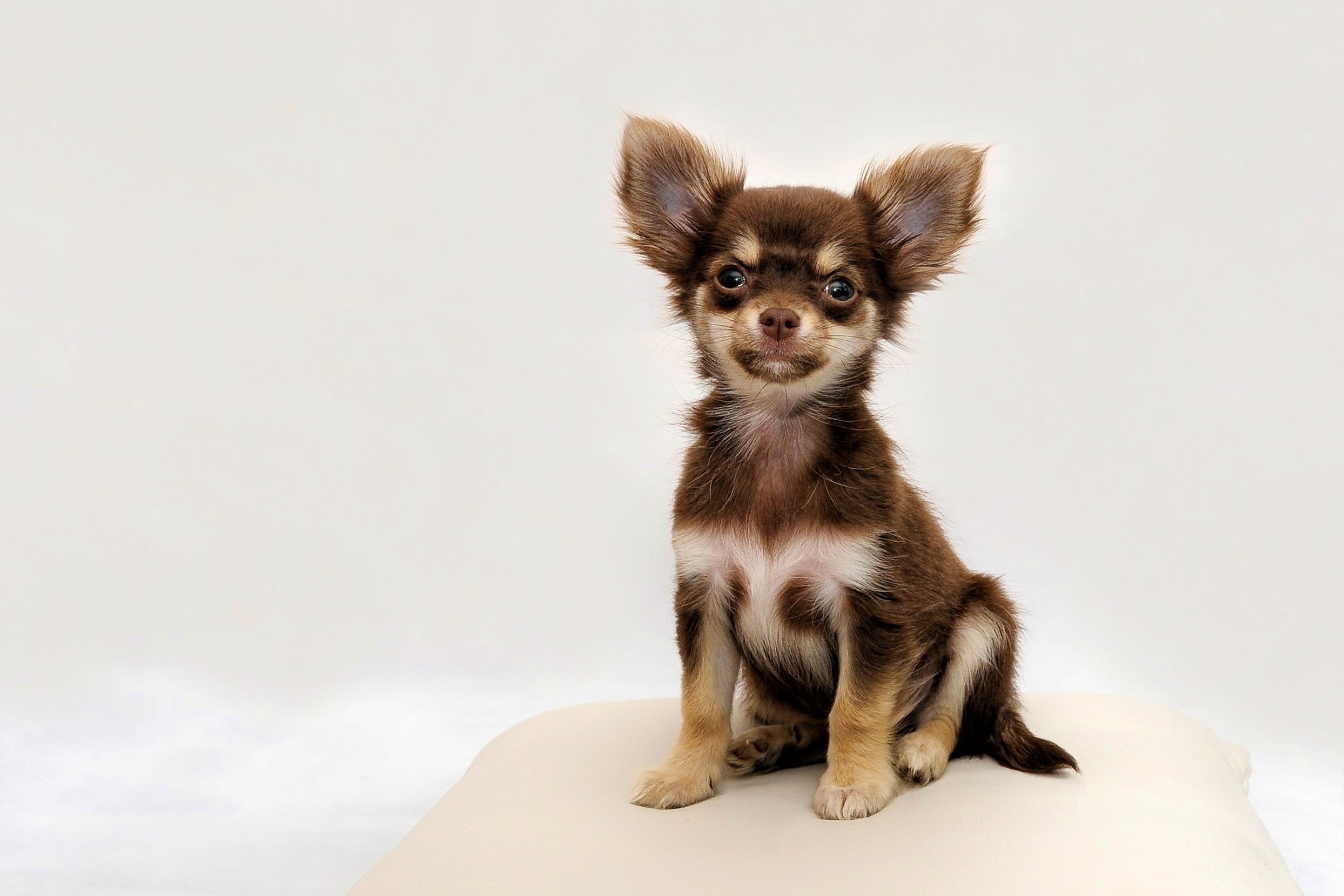 A similar Chihuahua
Justin Timberlake, Jessica Biel and Buckley and Brennan
The pop icon and actress join a long line of stars to fall for the energetic, loving and loyal Boxer breed. Humphrey Bogart, Cameron Diaz, Jennifer Lopez, Kim Kardashian and many more have succumbed to the Boxer's charms. Boxers can, regrettably, be susceptible to cancer (in particular lymphoma tumours), so we hope JT and Jessica are regularly checking Buckley and Brennan for lesions and bumps on their skin – and that their pet insurance covers any surgery that might ever be needed.
Nicole Kidman and Julian
"He might be the youngest member of the family but he's a wise old soul," screen icon Kidman revealed to her Instagram followers after adopting her toy poodle Julian. The cute ginger pup was Kidman's first ever dog, at the age of 52 – small wonder that he "stole her heart". We imagine he has a pretty royal time of it, too, dashing about the large Australian farm that Kidman shares with husband Keith Urban and their two daughters and three cats. All the photos show that Julian is already incredibly dear to Nicole. Amid all the joy, we should just caution that poodles can frequently experience gastric dilatation-volvulus (or 'bloat'), often requiring surgery. Some good pet insurance will be indispensable here.
The Duke and Duchess of Cambridge's puppy
The Duke and Duchess of Cambridge welcomed a new addition to the family last year: an eight-month-old Cocker Spaniel puppy, from a litter raised by Kate's brother James Middleton. "The new puppy is adorable and the whole family are besotted," a friend told The Mail on Sunday,which first reported the news. We don't know the pup's name – but we can be sure that s/he must be one of the most pampered pooches out there.
Orlando Bloom and Buddy
Last year was a big one for actor Orlando Bloom. The first major event was a sad one: the death, in July, of his beloved teacup poodle, Mighty. Happier events were to follow, though. Next came the birth of his daughter Daisy Dove, in August; then, three months later, came another hugely exciting arrival. On 10th November, the actor introduced his new foster dog, Buddy, to his Instagram community. "Plz meet BUDDY a one year old something & something mix," ran the caption. "Nothing can replace Mighty man, but fostering this little guy has really filled my heart – if you've never fostered or are considering, I'd highly recommend it – it leaves two beings better off." We couldn't agree more!
Protect your treasured pup with pet insurance
We may not all be globe-trotting celebrities – but we all love our dogs deeply, knowing what warmth and companionship they bring into our lives.  And one of the very best ways to ensure that they will continue to live their lives to the full is to invest in some reliable pet insurance.
Purely Pets' award-winning dog insurance features a host of benefits including multiple options for lifetime cover, and a 24-Hour Vet Helpline. Our Gold products have been awarded a 5-star Defaqto rating for 2021.
Contact us today for a quote.
Policy benefits, features and discounts offered may very between insurance schemes or cover selected and are subject to underwriting criteria. Information contained within this article is accurate at the time of publishing but may be subject to change.
Helpful Pages
Recent Posts
Pet Insurance Quote
98% claims paid *
Claims paid directly to vet
24/7 vet video consultations
Interest free monthly payments