British actor Chris O'Shea, banging the drum for foster dogs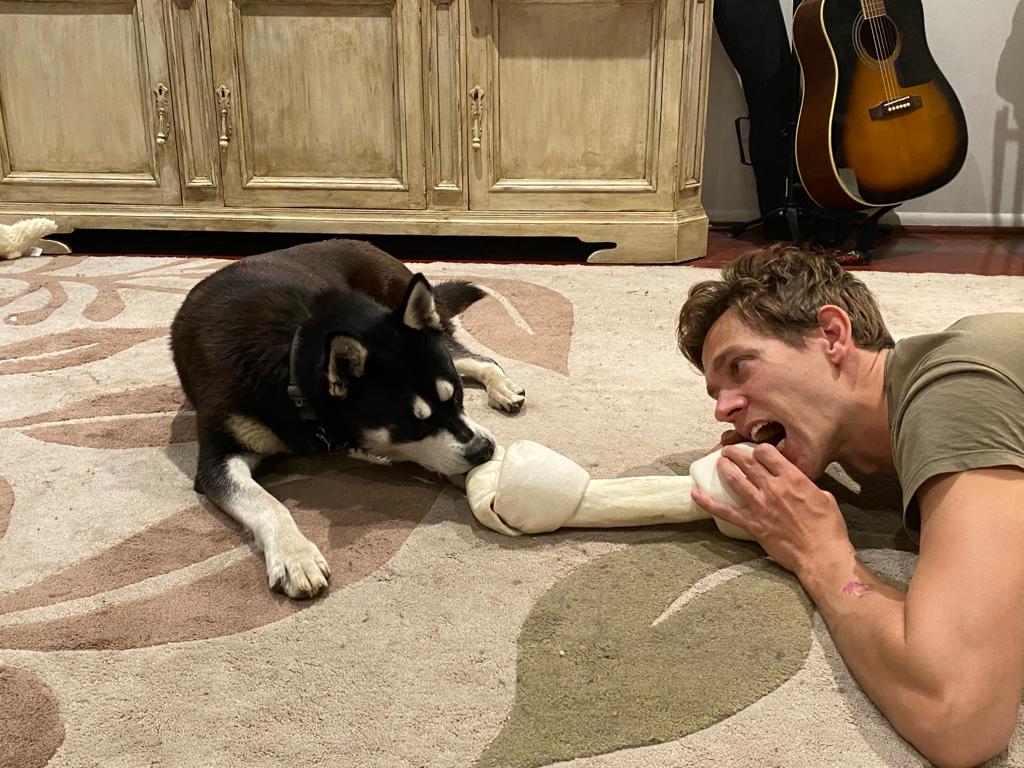 He's Pratts bottoms finest, now scaring the living daylights out of the Riverdale residents on the popular Netflix show, which is heading into its sixth season.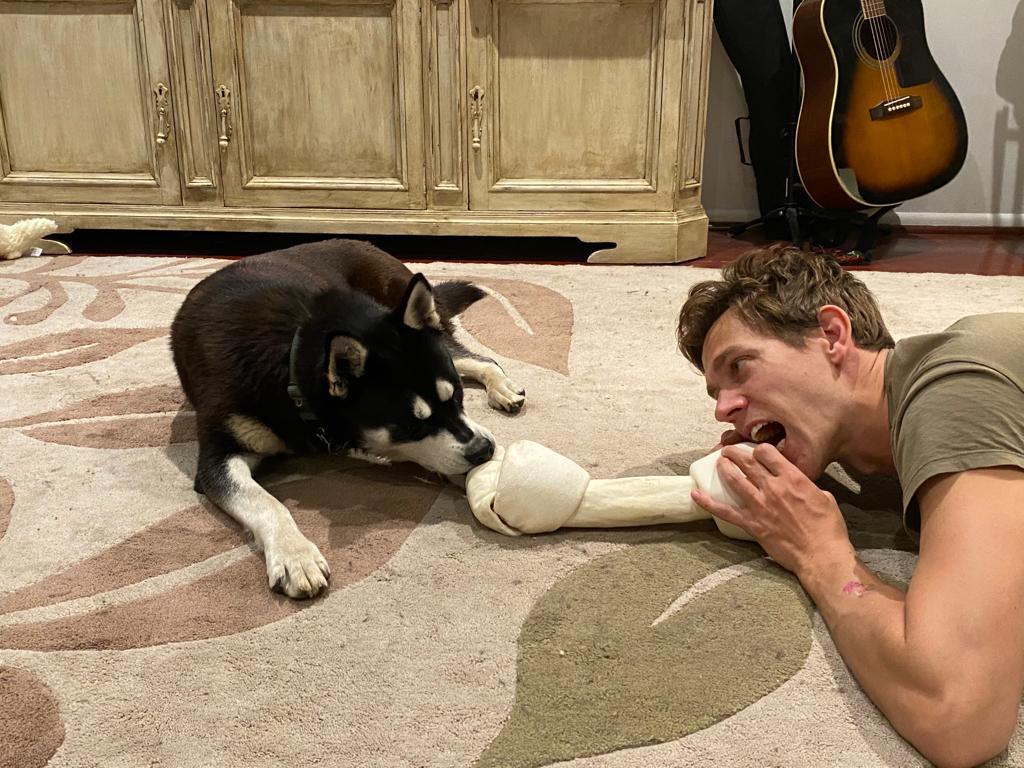 Born in the brilliantly named Kent town, Chris O'Shea, is the latest British sensation to crack the States and as the maverick and sinister Percival Pickens, the Riverdale nemesis, the actor is having the time of his life.
"I've been filming in Vancouver since September, and they've just stuck me in a penthouse in the Shangri La hotel and you've got to see it to believe it! I'll never adjust to normal life again."
As Percival I'm the devil basically, and I've been spending my time boxing, singing and murdering. It's been class!"
Chris was at the Globe appearing in 'Henry VI' in London, when his brother decided to move to LA to work in Visual Effects.  He went out for holiday in 2012 and has been acting there ever since.
"I guess I always wanted to be an actor and I went to a catholic boarding school so acting was the only way to meet girls. My reasons for acting have got deeper since then, not a lot deeper but I guess a bit deeper!"
The move to the States has proved to be an inspired one with roles as Jareth Glover in the TV Hit Madam Secretary and recently as Andrew, in the smash Netflix series 'You'.
Chris first became interested in rescue centres for dogs at home in L.A and it's the foster route he's chosen to go down. "I've always loved dogs. Always been around dogs. Ever since I was born, really. Sort of loved them for the first 30 years without really noticing them - they've just always been part of my life.
Then the Pandemic happened, we were home a lot and I realized that, although I lived in an apartment, the space I had was far better than a dog would get in the shelter. I started following rescues on Instagram, picked a dog, phoned the rescue, picked her up from the pound in Downtown LA and went from there!
"The first two dogs we rescued were a breeze. Perfect straight out of the box - what they were doing in doggy prison I've no idea. One was a Husky we called "Luna," great with other dogs and better with kids than me.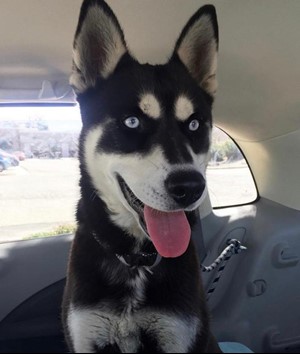 Then I got cocky. I decided I'd go out to this unmanned shelter in Taft, California. It had twelve concrete cells, out in the desert, where a volunteer turns up once a day to feed and water them. It's basically a dead end for dogs.
At one point, one just bolted out the shelter gate, as I was coming in and ran after a cat, but I tackled him as he chased the cat under the car. I knew he wouldn't bite me, because. I thought "If he doesn't go for me after that, he probably won't ever. We called him Stan."
Stan had more issues than 'The Beano' and we needed professionals to help sort him out. When you have dogs who've been neglected and you need help, in LA, John De Flores and Humble K9 who are behaviour specialists, are where you go."
Chris has just had some time off from Riverdale, which means he's been able to fly home to L.A, and he firmly believes the company of a dog helps him relax and switch off from filming. For him, it's the ability to foster a dog that has been the best way of fitting them into his lifestyle.
"Although I've got a space, ultimately my apartment isn't the place for every dog. Luna is a husky and needed a garden."
We could've kept Coop and Ethel who're Boxers we fostered, but ultimately, we found families with gardens for all these dogs that would otherwise have had an uncertain fate. They all upgraded, life-wise."
You can see just how happy his foster dogs are in the pictures, but Chris says the pleasure also comes with a cost.
"I was tears in the car, after dropping them at their forever families, after every single one. That's the charity part, though.  That's what you give them. The rest of it is just… having dog, which is incredible."
Chris, who's a massive Liverpool fan, says it's difficult to look too far ahead in the acting profession, and will return home to see family in July where he can have a beer and watch some cricket, at the Horsemonden club in Kent, where his two nephews play.
For the time being he's just enjoying the freedom the character of Percival Pickens in Riverdale is giving him, and he'll keep banging the drum for fostering a dog if your lifestyle allows.
"The calculation I made was a simple one, and one, I think, that might work for lots of people. I didn't have the perfect space. I didn't have a garden or anything like that… but what I had was better than the shelter and potentially being put down.
The dog just needs a place to crash and some love, exercise and safety while his forever home is found. If there's a place with someone who loves and wants to help dogs, I'd say contact a rescue centre and spring a dog from prison, then figure the rest out with the rescue as you go. There's plenty of support out there."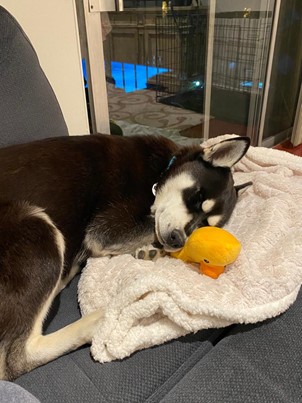 There are plenty of dog stories swapped on the set of Riverdale as many of the cast bring their pups to work which Chris says is fantastic.
A penthouse in the Vancouver Shangri La and rave reviews for his Riverdale role. For the lad from Pratts Bottom who loves dogs, the only way is up!
Helpful Pages
Recent Posts
Pet Insurance Quote
98% claims paid *
Claims paid directly to vet
24/7 vet video consultations
Interest free monthly payments