Cats can relieve stress and loneliness, owners say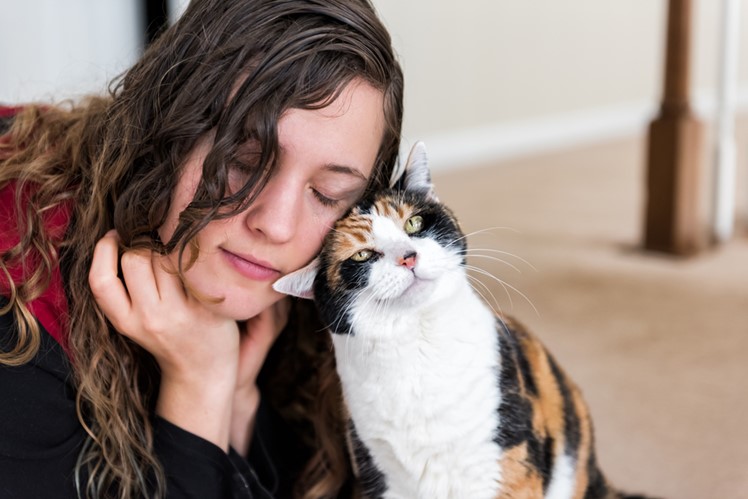 If you enjoy playing with your cat, or simply cuddling up with them at the end of the day, you're not alone.
In a new survey by Cats Protection, 59% of cat owners said that their pets are great companions and can relieve stress or loneliness.
"Cats are fabulous company and when you are feeling sad they just know how to cheer you up," one respondent said.
More than nine in ten owners (91%) consider their cats part of the family, 86% talk to their cats and 64% love to spoil them. In fact, over half (53%) admitted to putting their cat's needs ahead of their own.
There are 10.2 million owned cats in the UK — one for every six people — and ownership is highest among 28-54 year olds.
More than half of owners (55%) worry about whether their cat is happy or not, with those under 45 worrying the most. Unsurprisingly, most owners (71%) hate leaving their cats when they go away and 42% admit that having a cat has impacted on their holiday plans.
Asked about their cat's less endearing habits, 36% of owners mentioned scratched furniture, 30% have had an early furry alarm call and 22% have had to deal with prey brought in from the garden.
The majority of cats in the UK enjoy both outdoor and indoor life (67%), coming and going more or less as they please. However, 31% live exclusively indoors. This is more common where owners live in a flat or a densely populated urban environment, the charity said.
The survey of over 10,000 cat lovers also found that the majority of owned cats (88%) are neutered, although 16% of neutered females have a first litter before they are spayed.
Indoor cats are less likely to be neutered (81%), but as cats can easily escape Cats Protection recommends neutering them too.
This year's CATS (Cats And Their Stats) report is the first of what's planned to be an annual survey to help build a greater understanding of the UK's cats and their owners.
Protect your furry friend with cat insurance from Purely Pets! We offer 5* Defaqto rated policies packed with benefits including a 24-hour Vet Helpline for all queries regarding your pet's health.
Helpful Pages
Recent Posts
Pet Insurance Quote
98% claims paid *
Claims paid directly to vet
24/7 vet video consultations
Interest free monthly payments