Charity warns against 'unsafe' collars after cat left badly injured
Cats Protection has warned about the dangers of unsafe collars after a young cat came close to having a leg amputated.
The cat, thought to be about 18 months old, was found in Wisbech with her front leg caught under her collar, causing deep wounds.
After receiving reports about the injured cat, the charity used sardines and tuna to tempt her into a humane trap and she was taken for urgent veterinary care.
"Over time the collar had embedded into her armpit and was causing an open wound, which then became infected," said Lindsay Tempest, manager at Cats Protection's Downham Market Adoption Centre.
"We thought we may have to amputate her leg. The infection was so bad that we needed to get that under control before exploring the best option for her. She has had two operations and her wounds need regular flushing and dressing to aid healing."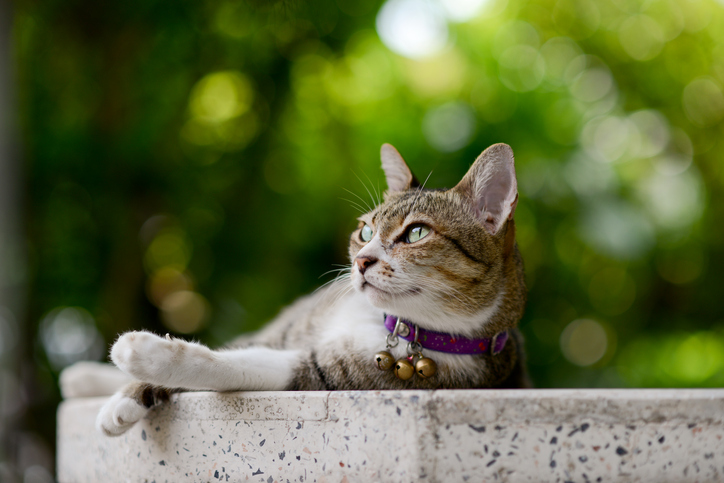 Although the collar suggested that the cat had been someone's pet at some point, she was not microchipped and repeated appeals have been unsuccessful.
If your cat also wears a collar, the charity recommends using only a 'quick release' or snap-opening collar – not an elasticated one. Then the cat is less likely to become trapped should the collar become caught or tangled.
It's also important to make sure the collar fits correctly. Two fingers should fit snugly underneath the collar to ensure safety and comfort, and damaged collars should be replaced immediately.
Cats Protection's preferred method of identification for cats is an implanted microchip, as this is permanent and safe.
"We have seen too many injuries caused by collars, where cats have got caught while playing, hunting or trying to escape from danger," explained Sarah Elliott, Cats Protection's central veterinary officer.
"A cat's leg or jaw may become caught in an elasticated or ill-fitting collar and this can result in serious injury. In their desperation to get clear, their legs can get stuck under the collar or the collar can travel down around their chest, getting tighter and biting into their body and causing open sores."
If your cat needs treatment for an injury or illness, cat insurance from Purely Pets will help ensure you can provide all the treatment they need to make a full recovery.
Helpful Pages
Recent Posts
Pet Insurance Quote
98% claims paid *
Claims paid directly to vet
24/7 vet video consultations
Interest free monthly payments