Cross country running with your dog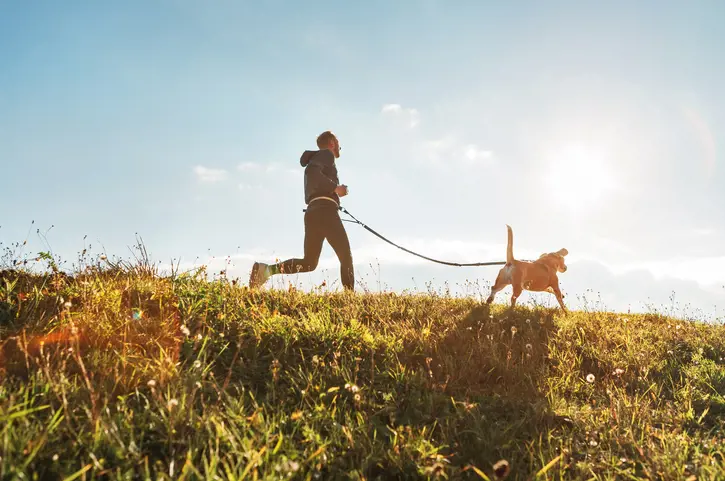 If your dog is full of energy and you're looking for a fun way to exercise after the festive season, canicross running could be just what you're looking for.
Canicross is cross country running with dogs on varied terrain. In this dog-powered sport, the dog wears a harness that is attached to the runner's body with a special bungee lead. This means that whenever the runner's feet are off the ground, the dog pulls the runner forward.
The sport started with mushers training their lead sled dogs when there was no snow. Since then, it has developed into a recreational and competitive sport.
After an excitable two-year-old Dobermann arrived at Dogs Trust with boundless energy and a lack of confidence, staff at the charity's Leeds Rehoming Centre introduced him to canicross and it worked wonders.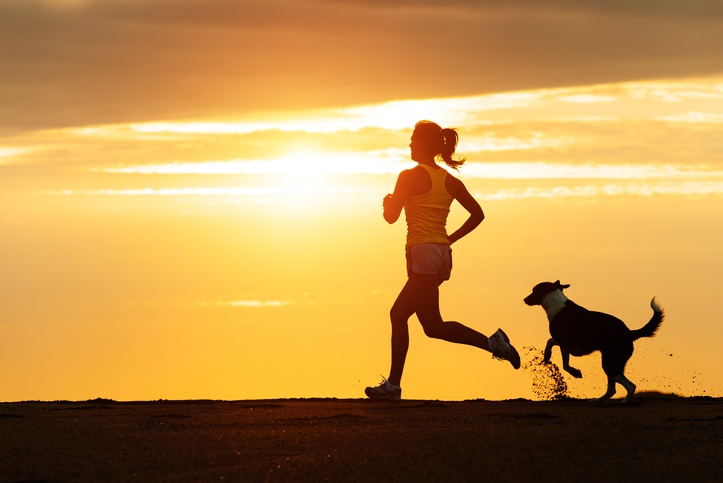 "We could immediately see how much fun he was having on the run but most importantly we saw that after a run he was far more engaged with his training work," explained rehabilitation trainer Amy Ross.
"We use all the correct kit, which is very important for safety. [Canine carer] Amy Carlin wears a special harness that's fitted around the hips and Stuart has a specially fitted harness too. They are connected by a canicross bungee lead which absorbs any shock from the pull of the dog."
Thanks to regular running sessions, Stuart is now much more focused during other training work and his confidence has also grown, said rehoming centre manger Amanda Sands.
"In addition, he is also showing a much more affectionate side of his personality which is wonderful to see. Stuart is a changed dog who we are delighted to say is now reserved so all going well will be in his new forever home soon."
Ready to give it a go? First, you'll need to get a harness and make sure it fits your dog comfortably. You'll also need a belt for yourself and a bungee line to safely connect you both.
Keep the run short and exciting, and try to avoid hard ground or gravel which will be less comfortable for your dog to run on. Build up your training gradually, and teach your dog directional cues so they feel confident about where you're both heading.
Last but not least, talk to your your vet if you've got any concerns about whether your dog should participate.
Dog insurance from Purely Pets enables you to provide your dog with the care they need to make a swift recovery if they fall sick or get injured. Benefits include an easy online claims process and access to our free 24-hour Vet Helpline for any queries regarding your dog's health.
Helpful Pages
Recent Posts
Pet Insurance Quote
98% claims paid *
Claims paid directly to vet
24/7 vet video consultations
Interest free monthly payments