Dogs prefer electric vehicles, study finds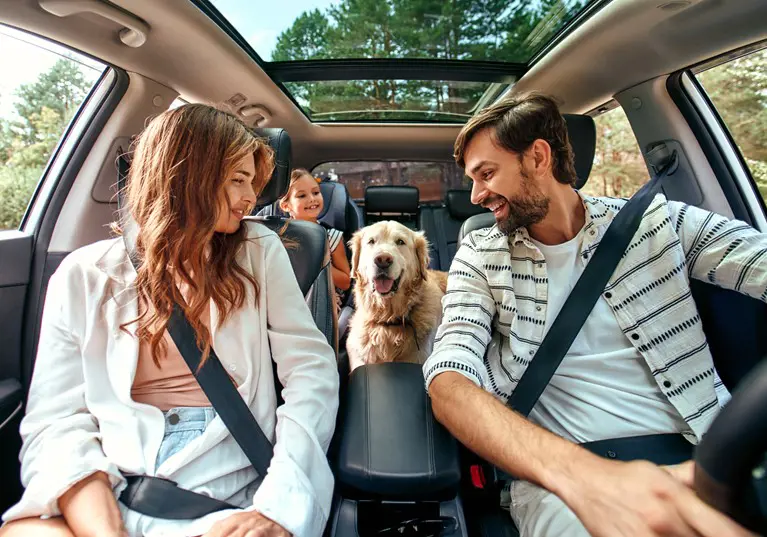 Dogs prefer to travel in an electric car rather than in a diesel-powered vehicle, new research suggests.
It comes after anecdotal concerns that the differences in vibration and/or noise experienced in an electric vehicle (EV) may cause dogs to be unsettled or have increased car sickness.
Online vehicle marketplace CarGurus partnered with the University of Lincoln for a first-of-its-kind study looking at the effects on dogs of travelling in a diesel car versus an EV.
Over two days, a total of 20 dogs were each taken on two 10-minute journeys, one in an EV followed by the same route in a diesel-powered vehicle. Researchers used a range of scientific observations and biometric measurements to analyse the dogs' response.
Findings revealed that dogs were less settled in diesel-powered cars compared with EVs. While the dogs in the study lay for about a third of the drive time regardless of powertrain, in diesel cars, dogs broke their laying position on average 50% more than when in an EV.
Additionally, dogs that showed some signs of car sickness had notably reduced symptoms in an EV. This was demonstrated by changes in behaviour and a reduction in heart rate by up to 30% when travelling in an EV.
The researchers concluded that there was no evidence to suggest EVs have a detrimental effect on a dog's wellbeing.
"We know from previous studies that the sharp increase in dog ownership over the past three years has prompted many drivers to rethink what car best suits their needs," said Chris Knapman, editor at CarGurus. "To date, our advice has focused on safety and practicality, and these remain the primary considerations. However, for those weighing the switch to an electric car, this study will provide reassurance that it will suit their dog equally as well."
With Purely Pets you can choose from 15 levels of dog insurance to find the right policy for you and your four-legged friend. As a customer of Purely Pets you will also get access to unlimited video consultations 24/7 with a qualified vet.
Helpful Pages
Recent Posts
Pet Insurance Quote
98% claims paid *
Claims paid directly to vet
24/7 vet video consultations
Interest free monthly payments