Having your dog in the room can help you sleep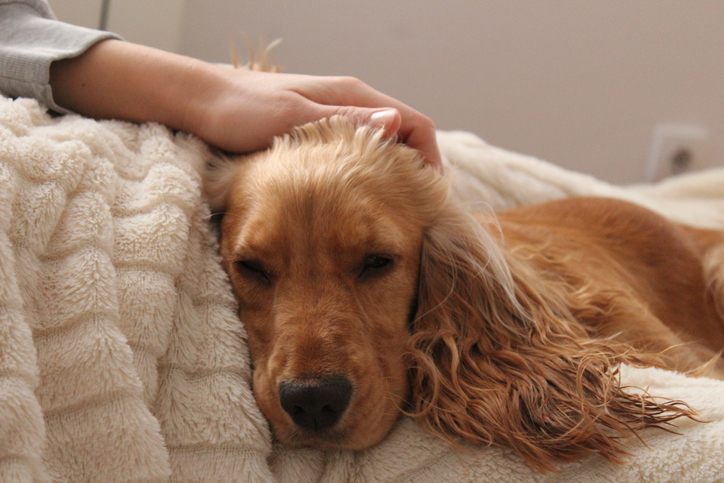 Does your dog sleep in the bedroom, or do you worry it might disturb you in the night?
Dogs love to join the rest of the 'pack' at night, and now a new study has shown that it could be beneficial for our own health.
Researchers in the US found that people who allow their dog to spend the night in their room actually sleep better.
"Most people assume having pets in the bedroom is a disruption," said Dr Lois Krahn from Mayo Clinic's Center for Sleep Medicine, an author of the study. "We found that many people actually find comfort and a sense of security from sleeping with their pets."
The study evaluated the sleep of 40 healthy adults without sleep disorders and their dogs over a period of five months. Participants and their dogs wore activity trackers to track their sleeping habits for seven nights.
Results showed that sleeping with dogs helps some people sleep better — regardless of the dog's size or how much they move around during the night.
However, don't let your furry friend join you under the covers: the sleep benefit extends only to having dogs in your bedroom, not in your bed. According to the study, adults who snuggled up to their pups in bed sacrificed quality sleep.
"The relationship between people and their pets has changed over time, which is likely why many people in fact do sleep with their pets in the bedroom," Dr Krahn said. "Today, many pet owners are away from their pets for much of the day, so they want to maximise their time with them when they are home. Having them in the bedroom at night is an easy way to do that. And, now, pet owners can find comfort knowing it won't negatively impact their sleep."
You'll sleep even better knowing your canine is covered with dog insurance from Purely Pets! Why not get a quote today?
Helpful Pages
Recent Posts
Pet Insurance Quote
98% claims paid *
Claims paid directly to vet
24/7 vet video consultations
Interest free monthly payments