How to re-socialise your dog after the pandemic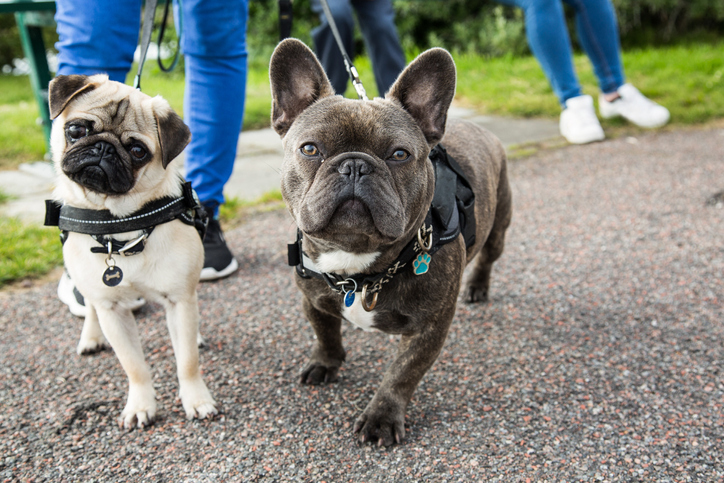 While the COVID-19 pandemic is still very much part of life there is light at the end of the tunnel for both us and our beloved pets. Now's the perfect time to take stock of our dogs' socialisation and how we can help them re-adjust to the new normal.
Having the right pet insurance goes a long way to protecting our pets' wellbeing. But what else can we do when it comes to re-familiarising them with everyday life?
Read our Purely Pets guide to re-socialising your dog after the pandemic and get prepared.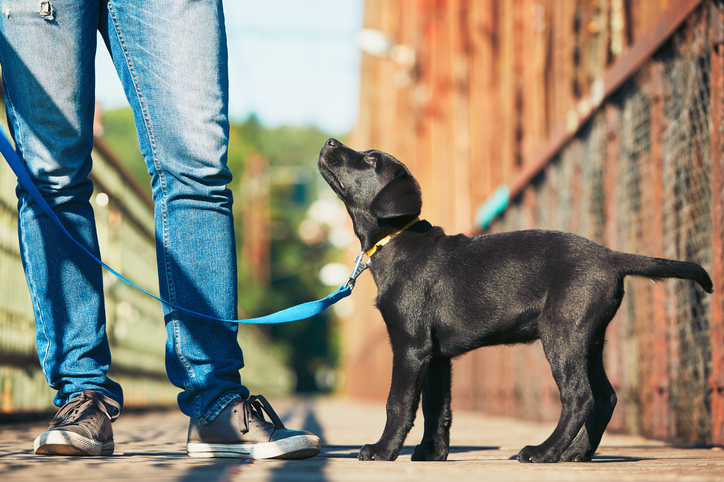 Behavioural changes in dogs after the pandemic
Ask any dog owner about life over the past two years and there's no doubt many will say it was made more bearable by their furry friends.
Indeed, so many felt that way that many families took the plunge and purchased or adopted a new dog to help them through it.
With people staying at home for longer periods than usual and looking for something to alleviate the pressure it's easy to see why dog ownership skyrocketed!
But how about the pets themselves? How has their behaviour been affected?
Puppies and recently adopted dogs will no doubt have benefited from all that extra bonding time. But it also meant there were fewer opportunities for getting out and about and exploring all the local area has to offer.
Similarly, older socialised dogs may now find that situations they previously encountered have now changed a lot. For example, what about all those walkers, joggers, cyclists, and outdoor gym enthusiasts they now meet on their walks? Not to mention all that mask wearing and social distancing!
The Dogs Trust has called COVID-19 a dog welfare crisis after asking 6,000 owners about their dog's behaviour during the pandemic.
Over a quarter of those surveyed said their dog had shown at least one new problem behaviour.  These included:
An 82% increase in reports of dogs whining or barking more.
A 20% increase in reports of dogs constantly seeking attention.
A 54% rise in the number of dogs hiding or moving away when approached.
A 41% increase in reports of dogs being clingy or following family members around the house.
Helpfully the British Veterinary Association has issued vital guidance on behavioural changes in dogs to watch out for. How will you know when your dog needs help and support if you don't know what changes to look out for? There's also specific guidance for owners of puppies.
A key way to help your perfect pooch, particularly if you've been self-isolating or unable to leave the house, is to spend some extra time re-socialising your dog or puppy as life begins to return to normal.
What is dog socialisation and why is it important?
For a happy and long life together it's important your dog has gone through the process of socialisation, by which they learned all about the world.
During this process you will have shared a range of new experiences with them and taught them to relate appropriately with humans, other dogs and animals. Plus, a whole range of other events, experiences and situations.
From meeting a new person or another dog at the park, to getting on a bus, encountering a vacuum cleaner, or just going to a new place, providing rich and varied positive experiences will help them to relax and enjoy life.
Equipping them with the resilience to deal with the vast range of experiences they will come across in their life is a key part of being a good owner.
While socialisation is something that's often associated with the first few months of a puppy's life, in fact socialisation needs to continue even when they're an adult dog.
Just as during the COVID-19 pandemic, if this doesn't happen a dog may become fearful or even aggressive in unfamiliar situations. Or even in once-familiar situations!
As well as signs of nervousness and aggression, you may also find new behaviours developing. For example, because you have been around so much during the pandemic, they may be more likely to experience separation anxiety when left alone.
Learn more about separation anxiety in dogs and how to cope with our handy guide.
When should you get started with dog re-socialisation?
If you brought a puppy home during the pandemic then it's important to start the process of re-socialisation as soon as possible. Provided they have had all the correct vaccinations then it's vital to catch up on any time lost.
Between the ages of three and 17 weeks puppies enter a so-called critical socialisation period. During this time puppies are very quick to form attachments with their owners, family and other carers and are particularly sensitive to their environment.
While these early pleasant experiences play a crucial role in any dog's future emotional wellbeing, dog socialisation doesn't just end after the first four months.
A dog will keep learning and adapting throughout their life. So, even if socialisation hasn't been perfect or they have had negative experiences, all is not lost – there's still plenty you can do to help them.
Puppy socialisation
If your dog is still young, hopefully you'll be able to continue the process of socialisation from where you left off. The Blue Cross animal charity has a brilliant guide to socialising your puppy that's invaluable for any new pet parent.
Exposing them to as many new sensations as possible is key. Letting them see, hear, touch and smell the world around them is vital for successful dog socialisation.
While some of the pandemic measures have made dog socialisation trickier, there's no reason why you can't continue to interact with people and other dogs from a safe distance.
Remember, the more positive experiences they have with people, dogs and other situations the happier they'll be as an adult.
But be careful to constantly watch their reactions and step in if they need help. As we've already said, negative experiences can have just as big an impact as positive experiences. So, always try to tailor your socialisation training to suit what your puppy finds comfortable.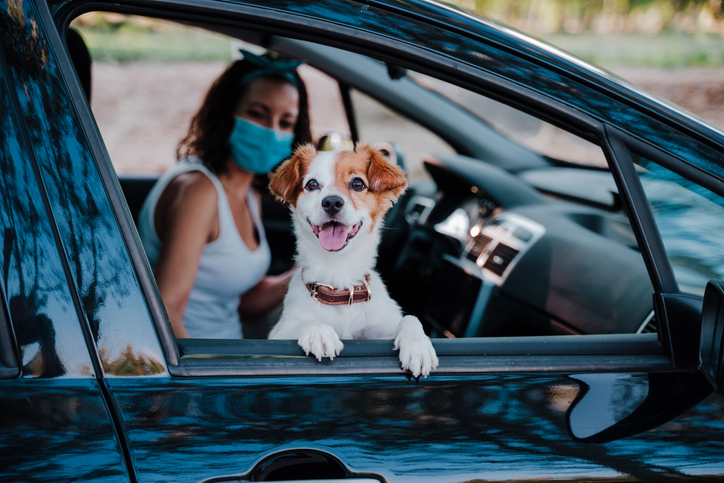 Adult dog socialisation
If you got a puppy towards the start of the pandemic or perhaps have adopted an older dog who wasn't properly socialised as a puppy, then don't despair.
While you might find introducing unfamiliar experiences to them more challenging, it's certainly still possible for your dog to become properly socialised.
Embarking on a brave new world full of doggy parks, bustling streets, and new friends can still be a fun experience. Provided you demonstrate some patience and you adopt a slow and steady approach.
However, before sending your pup straight into the hectic outside world, try these top tips.
Be realistic
If your dog missed out on a lot of socialisation previously then it's important to be realistic about what is achievable. They might never be completely comfortable with everything they encounter.
No two dogs are the same and depending on your dog's previous experiences, it might be enough for you to make them feel safe and secure in their immediate environment. After all, not every dog has to take on the entire world!
Take your time and don't rush in
Turning up at a busy park where there are lots of other dogs and people running around will feel overwhelming for most dogs who have grown used to quieter spaces.
Meeting a bunch of overexcited hounds could really set them back and in the worst-case scenario might even lead to them picking up bad habits.
If you're working on the socialisation of an older dog then be aware they won't absorb new experiences like a puppy.
Be guided by what your dog is telling you in terms of how comfortable they feel. You can always come back and try another day.
Check they are healthy
Sometimes behavioural difficulties may not be to do with socialisation. Take them to the vet to check they're not in any pain or have any other problem that could be making socialisation difficult.
Having the right pet insurance will mean you can get help quickly, without worrying about the cost.
Meet up with a friend
In these difficult times it's always nice to have an excuse to meet up with a friend. So why not invite them and their dog over for a playdate?
While you have a relaxing cup of tea and a natter, they can re-learn appropriate doggy etiquette in a safe environment without feeling overwhelmed.
Skip on-lead greetings
You don't need to be an animal behaviour expert to k
now that dogs behave very differently when they're on or off a lead. While re-socialising your dog after COVID-19, try to avoid on-lead greetings with other dogs.
This can lead to anxiety and over-excitement as well as unwanted behaviours such as jumping up, pulling, and barking at other dogs.
Get them used to mask-wearing humans
One of the more unusual things dogs will have had to get used to is the remarkable change in human appearances. Where previously they would have been able to see our faces to help them understand how we're feeling, this is no longer the case.
Head out further when confident
As they become more confident again, think about heading out to busier places such as a pub garden or park. Only do this when you're confident the experience won't be too stressful.
Make sure you take along toys and other distractions to keep them happy and calm.
Involve them in activities with other dogs
It could be a good idea to involve your dog in an exercise or obedience class. These kinds of activities can provide a valuable opportunity for them to be around other dogs without necessarily having to socialise with them. Grab any opportunity for them to try out important life skills such as ignoring other dogs in their surroundings.
The RSPCA advises owners to spend the time to find a good trainer. As some training methods have been shown to be harmful or lead to behaviour problems.
The Association of Pet Dog Trainers, UK (APDT) has details of accredited dog trainers with the right knowledge and skills to train your dog.
Make sure it's a rewarding experience
Encouragement, praise, patience, and a pocketful of rewards will play a big role in your dog's re-socialisation. Be sure to always reward any progress with gentle praise and their favourite treat.
Stay paw-sitive
Socialisation can take a long time, particularly with older dogs. But don't lose heart, the long term benefit to you both is well worth the time and effort. Whatever happens, always try to finish a socialisation session positively.
If you have pet insurance arranged through us then you can always access our 24-Hour Vet Helpline where you can speak to veterinary professionals about any issues whatsoever.
Some dogs may need professional support with their behaviour. Speak with your vet who should be able to recommend an appropriate animal behaviour expert.
Always choose someone who is registered with the Animal Behaviour and Training Council (ABTC). This is the professional body which oversees and monitors standards of professional competence for animal behaviour therapists and trainers.
How pet insurance can help
Life during the COVID-19 pandemic has been tricky enough without worrying about unexpected costs such as vet bills. If your four-legged friend develops a problem, the insurance could help cover the costs, which can be substantial.
The dedicated team at Purely Pets make the process of arranging pet insurance as simple and transparent as possible. If you choose Purely Pets, you'll benefit from:
Excess from as little as £60
Lifetime cover up to £15,000
Online policy management
Get a quote for pet insurance from Purely Pets today.
Policy benefits, features and discounts offered may very between insurance schemes or cover selected and are subject to underwriting criteria. Information contained within this article is accurate at the time of publishing but may be subject to change.
Helpful Pages
Recent Posts
Pet Insurance Quote
98% claims paid *
Claims paid directly to vet
24/7 vet video consultations
Interest free monthly payments