New research shows the impact of lockdown on dogs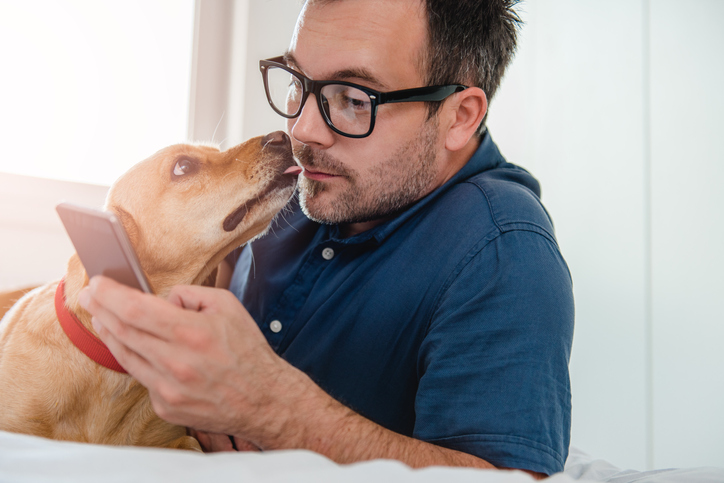 For many of us, lockdown has been a chance to spend more time with our pets — and for them to enjoy more attention. But new research from Dogs Trust shows that, while some dogs have been happy to have their human family at home more, others have been stressed by reduced exercise, inability to find a quiet place to rest or lack of contact with other dogs.
The charity surveyed over 6,000 dog owners to find out about the impact of the coronavirus crisis on their four-legged friends.
The majority of owners (55%) reported that their dog's routine had changed a lot, including having fewer walks — as owners stuck to government guidance — and being less likely to be allowed to run off-lead.
Worryingly, over a quarter of owners (26%) said that their dog had developed at least one new problem behaviour during lockdown.
Owners were also asked about their dog's behaviours in different situations before and during the lockdown period. The findings showed:
An 82% increase in reports of dogs whining or barking when a household member was busy;

A 20% increase in reports of dogs frequently seeking attention from their owner;

A 54% rise in the number of people saying their dog has hidden or moved away when approached; and

A 41% increase in reports of dogs being clingy or following people around the house during lockdown.
In addition to these findings, Dogs Trust revealed that after lockdown started, Google searches for 'dog bark' increased by around 48% and searches for 'dog bite' increased by around 40% — suggesting that people were actively seeking help online about their dog's behaviour.
The charity expressed concern that if behavioural problems aren't identified and treated early on there could be an increase in dog abandonment, and even euthanasia, in the future.
If your dog is unwell or injured, An insurance policy for your dog dog insurance from Purely Pets will help you provide them with the care they need to make a swift recovery. And with free access to our 24-hour Vet Helpline, you can speak to a professional at any time to discuss any concerns regarding your pet's health.
Helpful Pages
Recent Posts
Pet Insurance Quote
98% claims paid *
Claims paid directly to vet
24/7 vet video consultations
Interest free monthly payments