Our rescue story and the role of the dog warden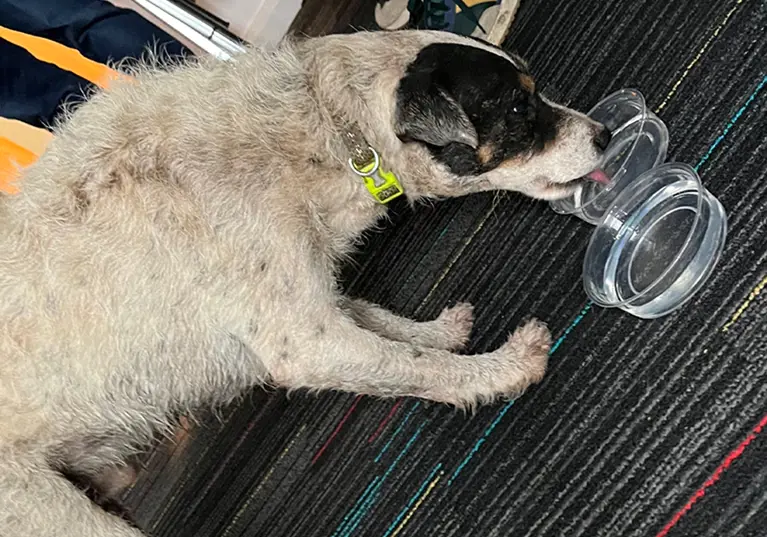 Our Bristol office was all excitement the other week, when one of our colleagues came across a lost dog on the grounds and had the 'pawsome' idea of bringing him in out of the cold and into the safety of the office.
Marky was safely collected by the dog warden and reunited with his owners without being kenneled, highlighting the importance of making sure your dog is wearing an appropriate collar with identification and is microchipped (this is required by law).
However, this got us all thinking, what do dog wardens actually do…?
Dog wardens are employed by local authorities.  Dependent upon where you live will depend on what level of service your Local Authority provides. You can check this by visiting your local Authority website and search 'dog warden'.
Most dog wardens will have an assigned public area in which to work, which could be within a county or a smaller area.
Dog wardens work closely with animals and humans alike. Their job involves helping stray and lost dogs, but also educating owners and enforcing dog-related legislation.
The role of a Dog Warden includes:
Collecting and reuniting stray dogs
Educating the public on responsible dog ownership through providing information
Promoting awareness and guidance on dog legislation
Enforcing legislation that applies to microchipping and straying
Dog fouling
Noise pollution caused by dogs
Working alongside other agencies
The Dog Warden Service does not deal with:
Dangerous Dogs – Contact the Police. If an emergency call 999 immediately. If it's a non- emergency call 101
Animal Welfare - Contact the RSPCA in the first instance if you have concerns about the welfare of a dog or other animal
Rehoming – There are various well known re-homing organisations, including Battersea, Dog's Trust, RSPCA and many more as well as smaller local charities. 
What to do if you find a lost dog
If you've found a dog that appears to be a stray, here are some practical things you can do to help reunite the dog with their owner. Remember that they may not be a stray at all, but a much-loved pet who has wandered away from their family.
Check their collar for a tag- Only if it is SAFE to do so (never put your personal safety at risk) check to see if the dog is wearing any form of identification that will enable you to return them directly to their owner. If the dog is wearing some ID with contact details, then get in touch with the owner straight away and arrange a place to meet them with the dog.
Contact the local dog warden- If the dog isn't wearing any ID, or if you can't safely get close to them to check, then you'll need to contact the dog warden at your local authority. Contact them straight away and arrange for them to collect the dog. They will ensure the dog's microchip is scanned and make every effort to return the dog to their owner. Your local vets or rehoming organisations can't take strays directly off the street or from well-meaning members of the public except under certain emergency situations.
Helpful Pages
Recent Posts
Pet Insurance Quote
98% claims paid *
Claims paid directly to vet
24/7 vet video consultations
Interest free monthly payments