The most popular dogs during lockdown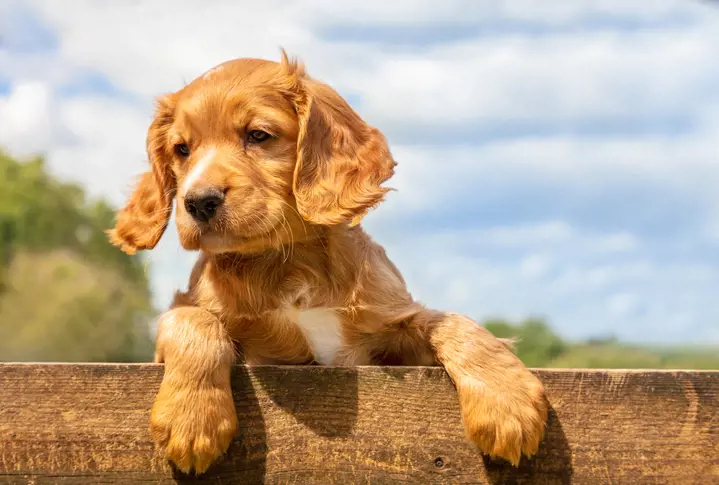 The various lockdowns of 2020-21 proved to be challenging times for so many of us. Huge numbers of Britons will have experienced some feelings of confusion, anxiety, loneliness or confinement.
Unsurprisingly, for a great many people, the natural response to this anxiety and enforced isolation was to acquire a pet. Research by the Pet Food Manufacturers' Association (PFMA) revealed that some 3.2 million UK households (or 11.4% of the total UK population) adopted a pet during the pandemic.
Sales of dogs, in particular, leapt up – and it's not hard to see why, with dogs' naturally sociable nature making them an ideal companion during difficult or lonely times. Remember, too, that during the very first lockdown our movements were tightly controlled – for a while we were only allowed out for one exercise session a day, which for many people merely focused the need for some daily exercise and fresh air to break up the monotony and isolation.
And who better to share that daily exercise session with than a new four-legged friend? Yes, dogs proved to be ideal lockdown companions in many ways.
We're going to run down the list of the most popular dog breeds acquired during lockdown, before looking at some of the mental health benefits that owning a dog can bring – as well as some of the potential advantages and pitfalls of taking on a new pet during such an exceptional and difficult time.
If you did buy a new dog during lockdown did you remember to get dog insurance in place? If not, Purely Pets can help.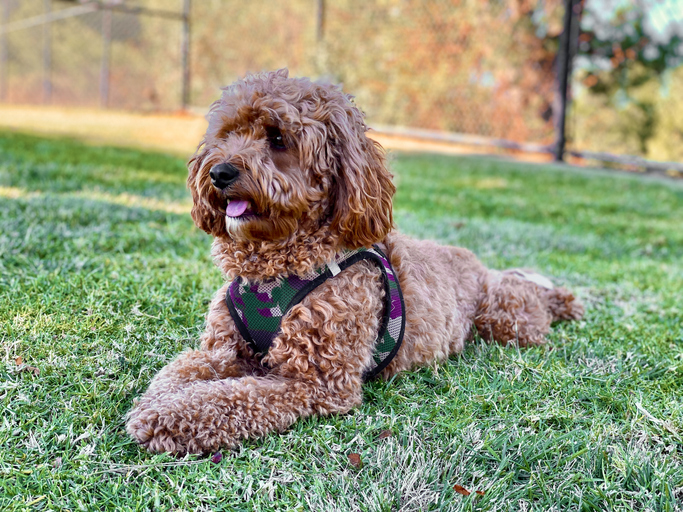 Which breeds were popular during lockdown?
Pets 4 Homes, the UK's largest free online pet marketplace, conducted a survey of pet acquisition trends during the first lockdown (March to November 2020). During the peak of the lockdown, in May 2020, demand for pets soared some 104% over 2019 levels, their survey found. That month saw a staggering 420 would-be pet owners competing for every pet for sale.
Dogs dominated the pet acquisition landscape during 2020, accounting for 73.5% of pet sales. Demand for puppies rose 420%, peaking at 60 million online searches in May alone. When it comes down to individual breeds, the dog breeds most in demand (the number of buyers competing over each individual animal) were led by a trio of spaniels or spaniel crosses: the Cavapoo, Cockapoo and Cocker Spaniel.
Here are the survey's top five breeds:
Cavapoo (1,882 buyers competing for each puppy)

A cross between a Poodle and a Cavalier King Charles Spaniel, the Cavapoo has become a hugely popular pet in the UK over the past few years. They were, in fact, one of the first 'designer dogs', or crossbreeds, to appear, being first bred in the United States in the 1950s. Loyal, kind, calm and good-natured, Cavapoos make a great companion or family pet.
Good to know: Cavapoos are extremely people-oriented and love being in a home environment: they're also really good around children. On the other hand, this breed doesn't like to be left alone, and will suffer from separation anxiety, so make sure you give your Cavapoo the companionship that you want from them!
If you do acquire a Cavapoo, try to choose one that has been bred with a Miniature, rather than a Toy Poodle – the latter are more prone to hereditary health problems. In fact, this breed can suffer from serious health issues, so heavy vet bills can loom. It's a good idea, therefore, to have a dog insurance policy in place for whatever might lie ahead.
Cockapoo (1,812)

Bred by crossing Cocker Spaniels with Poodles, Cockapoos first emerged, like Cavapoos, in America. One of the oldest hybrid dog breeds, Cockapoos are justly popular dogs around the world: energetic, fun-loving and affectionate, they are great family pets and companions.
Good to know: Good-natured and intelligent, Cockapoos are, like their Cavapoo cousins, relatively easy to train. They also retain their puppy-like looks and dispositions until well into adulthood. They're great around children, and are available in a wide range of colours and sizes.
They are, though, another breed that needs human company, and will get anxious when left alone; and they also require regular grooming. Well-bred Cockapoo puppies are also expensive to buy, and they can develop a regular barking habit if not well socialised from early on.
Cocker Spaniel (1,652)
Unlike its derivative the Cockapoo, which has been a relatively recent arrival on our shores, you are probably familiar with the Cocker Spaniel from your childhood. This happy, intelligent and energetic breed has always been a hugely popular family pet here in Britain. Patient, kind and loyal, Cocker Spaniels love to be out and about exploring, their snouts snuffling the ground for interesting scents.
Good to know: A nice, compact size, Cocker Spaniels will do well in most domestic environments including flats. Lively, playful, even-tempered and good around both people and other animals, they will make a great family pet. They share with their Cockapoo cousins a need for company – and a relatively expensive grooming regime. Again, they can be a bit excitable and given to barking if not socialised and trained from early on – and that boisterous nature means that they are not so good around very small children. And they do tend to drool when they get over-excited!
Dachshund (1,613)

An active, busy and sometimes headstrong little dog, the Dachshund is a charming breed that often seems to have more energy than its little frame can accommodate! Dachshunds love to keep occupied, and will happily take on as much exercise as you want to give them. Originally bred in Germany to hunt rabbits and badgers, these dogs love to be out and about following a scent – but they'll also contentedly curl up next to you after a good day's workout. Intelligent and loyal, they make good household pets. They can be a little stubborn, though so may not be the best choice for a first-time owner.

Good to know: Affectionate and loyal, Dachshunds learn quickly and have a real fun-loving streak. They are generally low maintenance – however, they can be prone to a few health issues so we would definitely recommend some dog insurance if you are thinking of acquiring this breed.
Dachshund puppies must be watched carefully: if they jump up or down too vigorously, they can injure their backs and joints. These dogs will also put on weight if not regularly exercised. And they are another species which can be a bit bark-happy if not trained otherwise.
German Shepherd (1,602)

Something of a contrast to the smaller dogs around it in this list, the large, energetic German Shepherd has nonetheless been a very popular British pet for many years. They might look a bit big to make for a great family pet, but fear not: German Shepherds are loyal and intelligent and, as long as they get enough exercise and space to hurtle around in, can make excellent companions. Brave, reliable and blessed with excellent sensory skills, German Shepherds also make very good watchdogs. They will, though, need plenty of exercise and stimulation – and must be properly trained, being at their happiest when they know their place in the pack and who to take orders from!
Good to know: A German Shepherd will prove to be an exceptionally loyal pet, and will be good with children of all ages. However, with their very physical demands and need for comprehensive training, they probably don't make an ideal first dog. They can suffer from quite a few hereditary health disorders, so vet bills may kick in and dog insurance is strongly recommended. Finally, if you live in a fairly confined space, this isn't the dog for you.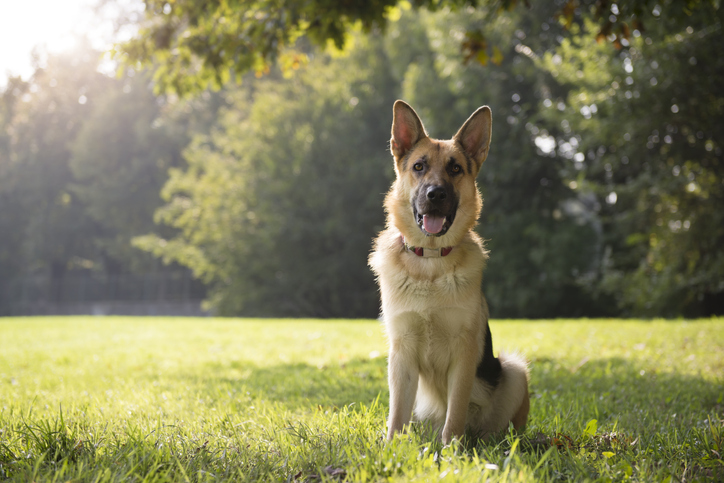 Dogs and mental health
Here at Purely Pets, we're not surprised to learn of the surge in dog acquisition during lockdown. Dogs do make wonderful companions, and – as long as they have the things they need, such as company, exercise and fresh air – can prove to be a great solace to anyone suffering from feelings of loneliness or anxiety.
When dogs and humans enjoy positive interactions they exhibit an increase in oxytocin and dopamine – stress busting, pleasure hormones. These two beneficial hormones are best triggered by eye contact and touch, which means that sociable, interactive dog breeds such as Cocker Spaniels or Golden Retrievers are among those most likely to elicit oxytocin release in their owners.
Conversely, certain dogs that we perceive – rightly or wrongly – as aggressive, such as German Shepherds or bulldogs, may kick off the fight-or-flight response in us – you may remember feeling afraid of certain dogs as a child. This response triggers the release of two rather different and less beneficial hormones: cortisol and adrenaline, which raise blood pressure and heart rate and can suppress the immune system long-term.
Was lockdown a good time to adopt a pet?
On one level, the COVID-19 lockdowns were clearly great times for many people to take on a pet, as these new companions brought both companionship and a renewed sense of purpose (and perhaps a new fitness drive!) during challenging and/or lonely times. But there may have been some less ideal factors at play, too. The PFMA warned that introducing a pet into a household during a national lockdown could bring some unexpected difficulties in its wake.
For example, they learned that some new owners were finding life with a pet a little more challenging than they had bargained for. More than a third of new owners told the Association's survey that the experience felt like having a baby, while a fifth of families with children admitted that training their new companion was turning out to be a challenge.
Some five per cent of those surveyed had, sadly, already given up the pet they had adopted during the pandemic, although no fewer than 74 per cent revealed that their new pet had boosted their mental health during this time.
Elsewhere, though, the RSPCA has warned that this spike in pet ownership could turn into a crisis once their owners start returning to their physical workplaces, and are no longer able to give so much time and attention to their animals. And research for The Kennel Club showed that many of these new lockdown dog owners fear that they won't be able to give enough attention to their pets, unless workplaces and leisure destinations become more dog-friendly.
The Kennel Club polled new dog owners as part of its Open for Dogs campaign, and found that 23 per cent of owners worried about not being able to provide a suitable home for their dog after lockdown ended and they were leaving the house more for work and leisure purposes.
Almost one in five owners (17 per cent) admitted to considering rehoming as an option, while 63 per cent of people surveyed – both owners and non-dog owners this time – worried about these 'lockdown dogs' being abandoned when life returns to normal.
Protect your new pup with dog insurance from Purely Pets
The last two years have brought home the benefits of dog ownership to so many of us. Over the pandemic, dogs have helped to keep us active, kept stress levels down and provided us with companionship and unconditional love during some very challenging times.
Here at Purely Pets, we understand the huge benefits that dogs bring to our lives – and we want to help ensure that, if your dog becomes injured or unwell, you are able to give them the care they need to get back on their feet as quickly as possible.
Dog insurance through Purely Pets can include:
Dedicated vet advice line

15 levels of lifetime cover

No upper age limit

Excess from £60

Lifetime cover up to £15,000
No wonder our Gold products have been awarded a five-star Defaqto rating for 2021.
Contact us today to find the right level of dog insurance for you and your beloved companion.
Policy benefits, features and discounts offered may very between insurance schemes or cover selected and are subject to underwriting criteria. Information contained within this article is accurate at the time of publishing but may be subject to change.
Helpful Pages
Recent Posts
Pet Insurance Quote
98% claims paid *
Claims paid directly to vet
24/7 vet video consultations
Interest free monthly payments