What is dog agility?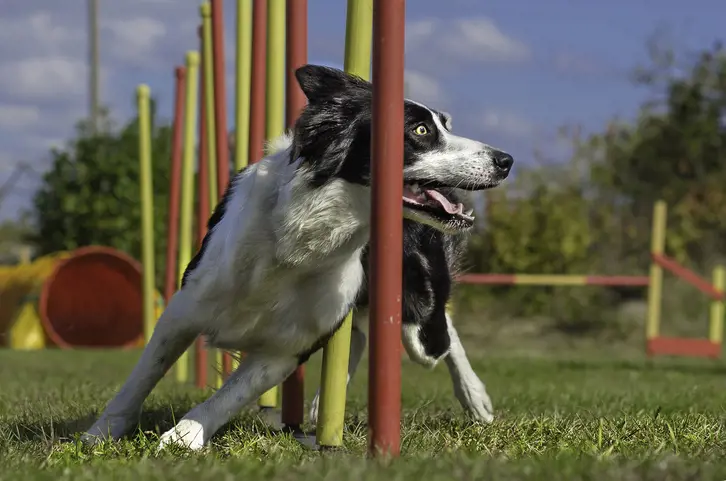 Agility can be a fun, active way to improve your dog's fitness and obedience – as well as a great way for you and your pet to spend time together. But what exactly is it, and how can you get involved?
First introduced at the Crufts dog show in 1978, agility is a form of dog competing that tests both the dog's fitness and obedience, as well as the handler's ability to control their animal. Dogs don't have to be pedigree breeds to take apart: they must, though, be registered on one of two Kennel Club registers, the Breed Register or the Activity Register. 
Dog agility brings lots of benefits. For one thing, it means you and your canine spending time together doing something physically active. On top of that, it helps instil obedience in your pet: dogs are encouraged to listen to, and carry out your commands, and (depending on how you choose to reward them!) they'll learn that working as a team is a really fulfilling thing to do.
You might want to get into agility so that you and your dog can compete; you may just want to spend time with your pet, giving them stimulus and exercise. Either way, the benefits of getting stuck into dog agility are plain to see.
A world of fun exercise challenges awaits you and your four-legged friend: we're going to give you a little background on dog agility and how to get into it, and a few things to be aware of – such as the benefits of some good pet insurance to cover your dog against all these exciting new activities.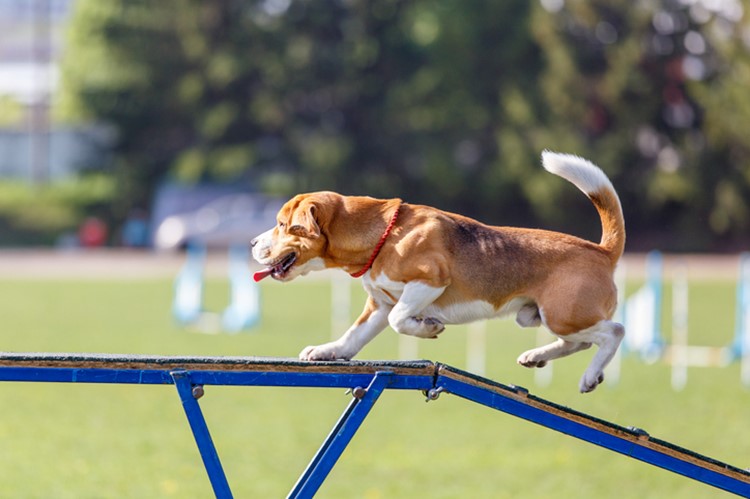 What does dog agility involve?
Agility competitions are timed events, so tests will see your dog jumping, weaving and racing around a course of obstacles as fast as they can against the clock. Agility tests on two fronts: it monitors and scores your dog's fitness, and it also measures how well you are able to guide your pup, so communication is key.
Dogs are off-lead, so factors such as discipline and responsiveness are paramount. If your dog has great recall and has mastered the basics of sit, stay, down and come, you'll be on the road to success in no time.
A typical agility event will feature a sequence of obstacles laid out in a circuit – Kennel Club regulations allow a combination of 20 obstacles to be used. These are set at different heights depending on the competing dog's height: competitors are measured and classified as large, medium or small, with the heights being set accordingly.
Obstacles include Hurdles and a Wall (both these are at a height of 30cm-60cm, depending on the height of the competitor). Then there's the Rising Spread Jump, where two hurdles are placed parallel to each other with their bars set at different heights; the Brush Fence (a hurdle with a section of brush beneath the bar); the Tyre Hoop, Long Jump, Water Jump, Wishing Well, Pipe Tunnel and, finally, a range of between five and 12 Weaving Poles to slalom between. Phew!
As well as these obstacles, the standard agility test also features three items of contact equipment. These are an A-frame to walk up and down, a seesaw to negotiate, and a dog walk – the latter consisting of a ramp up, an elevated straight section, and a ramp back down to the ground again. How do you think your dog would cope with those?
Is agility right for my dog?
This is well worth thinking about, as agility does make certain demands on your canine, physically, socially and in terms of obedience. For example, if your dog enjoys learning and confronting new challenges, agility should be a great fit for them.
However, if they are nervous in strange situations (and around other dogs and people), you may want to think more carefully about entering this world.
It also follows that certain breeds are particularly well suited to agility. Obviously, some breeds will simply find certain challenges difficult because of their size or shape, while more active and inquisitive breeds will be better suited.
Collies and Spaniels, for example, are typically active and intelligent breeds, who love to learn new things, and as such tend to enjoy agility. Collies, in particular, are so well suited to agility events, thanks to their obedience, intelligence and general fitness, that they often scoop prizes.
Also keep your pet's own medical history in mind when deciding whether agility is for them. The various events will make certain demands upon your dog – in particular, on their heart, breathing, and joints. Therefore, if you have any concerns about your dog's medical suitability for these events, it's a good idea to discuss these with your vet before you get started with agility training. In line with dog agility training, why not also consider putting your puppy into puppy training classes. 
Another thing you'll need to check at this stage is whether your pet insurance covers your dog against competing in agility events. Always read your policy carefully to check what is and isn't included.
Agility sounds right for me and my dog. How do I get involved?
Before competing in any Kennel Club-licensed event, you should get familiar with The Kennel Club rules and regulations. To take just two examples, dogs may only enter agility shows from 18 months of age – and once they have been officially measured and placed in the correct height category. Dogs are also not recommended to begin training on agility equipment before they reach the age of one.
You'll also need to get hold of your own agility record book, which is where you record your dog's measurements, competition wins and so on.
No experience is necessary when you are starting out. You'll begin at grade 1 – more on grades shortly – and you need to find a Club near you.
How do I prepare my dog for agility events?
You'll want to spend some time getting your dog properly prepared for an agility event. And we don't just mean getting them used to negotiating obstacles. It's also the fact that agility events are large, organised gatherings of people and dogs, where things have to be done a certain way.
You will need to make sure that your dog is fully socialised, is calm and obedient around crowds and that you can control your animal at all times. With lots of new sights, sounds and smells to discover, dogs can get over-excited – and if that excitement boils over into aggression, you'll need some pet insurance in place to protect you from the financial fallout.
We recommend plenty of frequent practice at the various agility obstacles – you can, if you wish, buy the various pieces of equipment to try at home. You'll find everything you need at your local pet store or online.
Always make sure that the obstacles you choose are suitable for your dog's size and weight: for example, the usual advice is that dogs shouldn't do anything involving jumping until they have reached their adult size, which is typically between a year and 18 months as they may damage their growing bones and joints.
You'll also want to get started with some supervised training at an agility class. Again, the Kennel Club's Find a Club service is a great resource for finding classes near you.
What happens at agility classes?
Group agility classes can be a really fun, sociable way for both you and your pet to get active and make friends. You may want to consider carefully, though, whether your dog will thrive in this kind of environment.
If they are nervous or reactive around people or dogs, you might wish to discuss this with the instructor – they may be able to adapt the class to suit your dog's needs. One-to-one classes are also available – and these may be the best option if your dog is particularly nervous.
Talking of instructors, you should try to find one who uses some positive, reward-based training; and who understands your dog's needs and will be sensitive to the pace you want to take things at.
It's a good idea to meet them and/or get a feel for their teaching style before you sign up, either by watching a class or by asking for a trial lesson before you commit.
Once again, this is a good time to make sure that your pet insurance is up to date and covers everything you need it to.
How are agility events scored?
Agility events are graded from 1 to 7. As you and your dog improve, you will be able to move up through the grades, from grade 1 (the entry level, which welcomes all competitors and dogs including newcomers) to grade 7.
The number and difficulty of the obstacles, and the challenges posed by their layout, increases with each stage.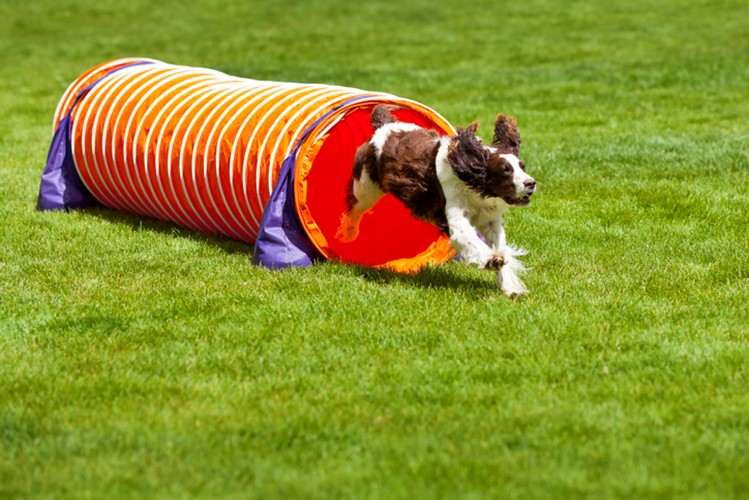 How do you progress?
Agility events are scored by recognised judges, and progression is achieved in two ways: via wins (i.e. through a certain number of event wins at each relevant grade), or via points progression. A minimum of 50 points must be gained in agility classes at each grade, in order to move onto the next level. 
Errors each carry a certain number of faults. For example, if your dog fails to negotiate a certain obstacle correctly; if you, the handler, deliberately touches either your dog or any of the equipment; or if your dog refuses to tackle an obstacle: all these result in five faults.
These faults are then deducted from your dog's final score, which will in turn influence whether or not they are able to progress to the next level. 
Other errors, such as taking the wrong course, failure to re-attempt an obstacle after a refusal, or fouling the ring, result in instant elimination.
We're ready for our first event. What's next?
Now you've got some training under your belt, you'll want to find the right event for your dog. For a start, it's worth knowing that different agility events have their own entry restrictions.
For example, limited agility shows are restricted to members of the show society, competitors from a certain area, certain breeds, or other limits as set down by The Kennel Club, while open agility shows are open to all competitors.
Other shows, meanwhile, act as Kennel Club qualifying events for the major dog shows such as Crufts, Discover Dogs or The Kennel Club Agility Stakes.
Lastly, championship agility shows are divided into three rounds, with the winner and second-placed dog taking home an Agility Certificate and a Reserve Agility Certificate respectively.
What are you waiting for?
If you've read this far and feel that agility could be a good thing for you and your dog to try, we heartily recommend that you give it a go. Dog agility is a friendly world, and there are so many events to get involved in, all around the country, with all abilities and sizes catered for.
The Kennel Club hosts and sponsors various events across the year, aimed at dogs and handlers of all levels. These range from local events to the blue-riband International Agility Festival, the Club's biggest agility event, which takes place in August at Rutland Showground in Leicestershire. You can find a list of the qualifying heats for various competitions elsewhere on the Kennel Club website.
You can, if you wish, compete regularly – if you do, you may start seeing familiar faces and, as likely as not, you and your beloved dog may both make friends for life. What's more conducive to friendship, after all, than a shared interest?
As for your dog, it could be just the challenge they need – physically, mentally, and socially. You'll both be ticking your fitness goals, too. What's not to love?
Get a quote from Purely Pets today
Whether they're competing in the ring or not, dogs can get into scrapes and accidents at any time.
At Purely Pets, we have 15 cover levels of award-winning lifetime pet insurance to help protect your beloved pooch.
Cover benefits include vets' fees up to £15,000 and excess starting at just £60, both depending on the policy level you choose. We also offer you a 24-Hour Vet Helpline for all your doggy-related questions or concerns.
Get a quick quote for pet insurance today.
Policy benefits, features and discounts offered may very between insurance schemes or cover selected and are subject to underwriting criteria. Information contained within this article is accurate at the time of publishing but may be subject to change.
Helpful Pages
Recent Posts
Pet Insurance Quote
98% claims paid *
Claims paid directly to vet
24/7 vet video consultations
Interest free monthly payments