23 tips for living with a dog in the city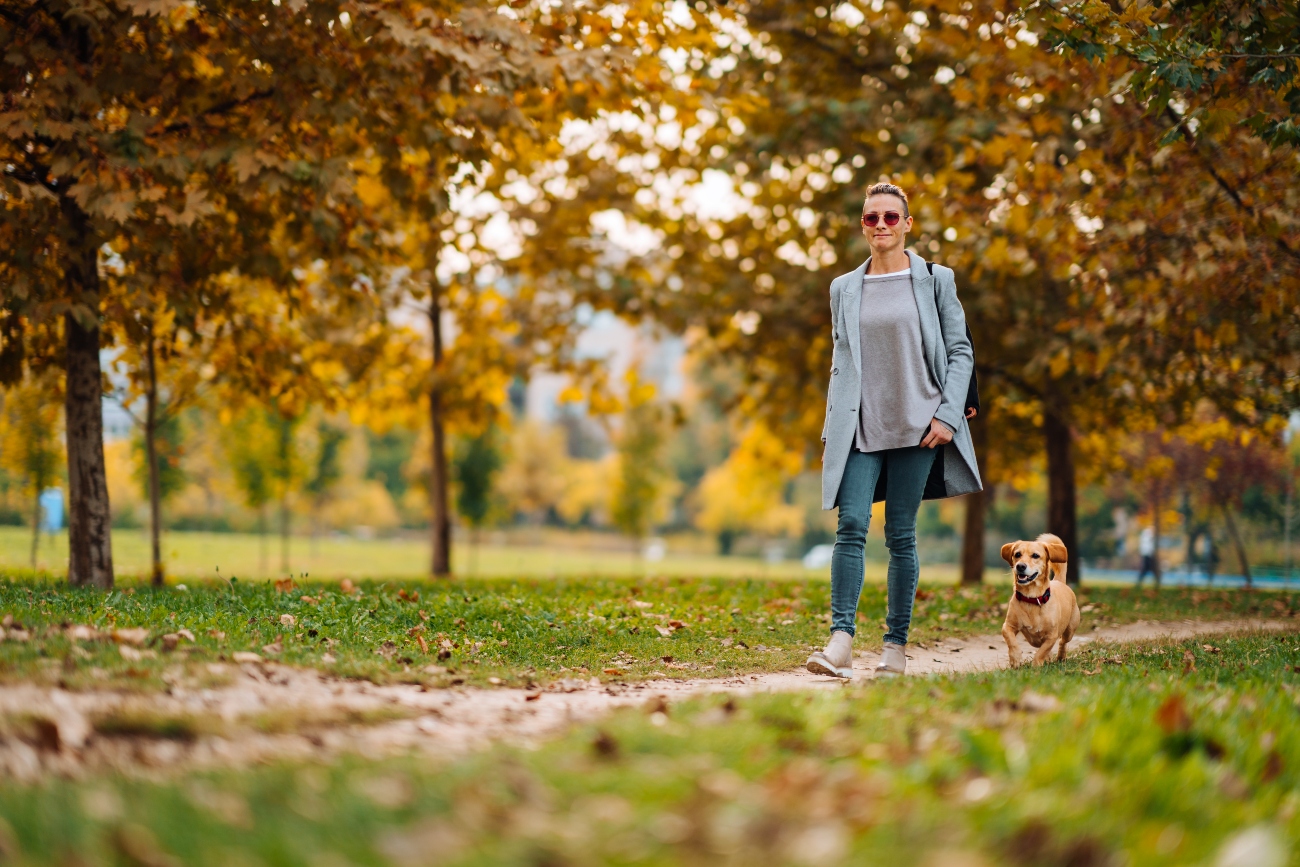 For city dwellers, the experience of raising a dog can be very different from those who live in the countryside. From noisy traffic and busy pavements to high-rise apartment living, there are many things you'll need to take into account. To help you out, we've compiled 23 top tips on living with a dog in the city.
From choosing the perfect breed and all-important dog insurance to heading out for walkies and what to do when leaving them home alone, we've got advice just right for you.
Being knowledgeable about potential hazards and how to deal with them is obviously important. But what's just as essential is choosing the right dog insurance.
Here at Purely Pets, we're always looking for ways to help you find the right cover for your canine, whether you live in the country or the town.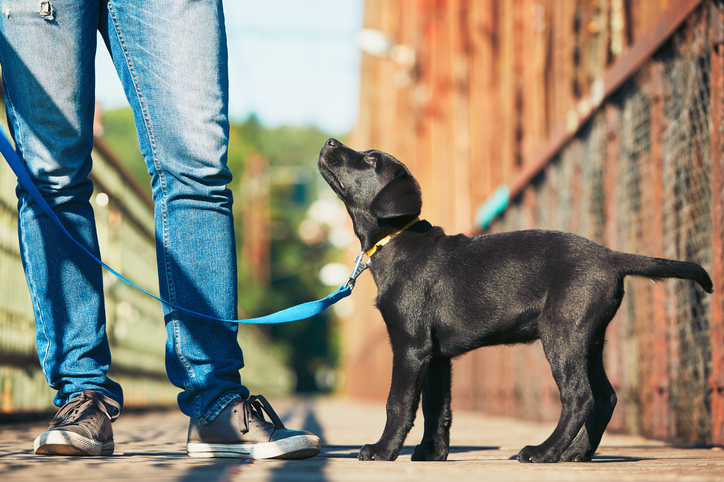 Choose a breed that does well in the city
When choosing a dog breed that's perfect for city living, there are lots of factors you'll want to take into account. You'll really want to look for a breed that's quiet, low energy, good around people, and can stay calm when left indoors.
Here's a selection of dog breeds that are just right for city dwellers:
Basenji – Quiet, calm, and not a big barker, you won't need to worry about thin walls or the closeness of your neighbours.
Boston Terrier – Affectionate, adaptable and easy to train they can be very well-behaved house pets.
Shih Tzu – The perfect easy-going lap dog. Although they will need regular grooming and obedience training.
Bichon Frise – A friendly, happy, small ball of fluff, but get ready for plenty of trips to the park!
Chihuahuas – These tiny dogs don't need much exercise but they can have big personalities.
Cavalier King Charles Spaniel – These friendly little canines make great companions. Although you'll want to start house-training ASAP.
Maltese – Sweet, affectionate and playful they can also be a great choice for people with allergies, too, as they don't shed. They are best suited to owners who'll be around most of the time.
Poodle – Coming in a range of sizes, these intelligent dogs are easy to train and very well behaved.
Brussels Griffon – A bit of a homebody they just can't get enough of human companionship.
Yorkshire Terrier – These happy little dogs can easily be exercised indoors as well as during their daily walk. They also make great guard dogs and will alert you to any potential intruders.
If you're thinking of investing in a pedigree pooch, take a look at our recent article on the subject.  In it we look closely at pedigree dogs.
Something to be aware of, due to their increased risk of developing health conditions, pedigree dogs should always be protected with some specialist dog insurance.
Daily walkies are a must
Whatever breed you go for, all dogs need a dose of daily exercise. It's vital for city dwellers to give their canine pals the right amount and type of exercise.
Not only to keep them in tip-top physical shape but also to make their time at home all the happier. As well as outdoor exercise, encourage them to play games and exercise inside, too.
Puzzle toys are great boredom busters to help keep barking and destructive behaviour at bay. But if you need to leave your dog at home while you're at work you'll need to do more.
Perhaps the best option is to find them a reliable dog walker. The RSPCA's partner Rover has a useful online search tool for trusted dog sitters and walkers.
Get them microchipped and registered ASAP
Getting your dog microchipped and registered with an organisation like the Kennel Club can bring many benefits. In such busy environments like cities, it's all too easy for treasured pets to get lost or stolen. By getting them microchipped and investing in specialist dog insurance you can guard against such issues.
As well as keeping them safe, it's a great way to access lots of useful information about dog health and training. You might also be able to take part in interesting shows and events. Who knows you might even end up appearing at Crufts!
If you want to register your dog as a pedigree or crossbreed with the Kennel Club or other similar organisations, you'll need a few details.
These include the details of the pup's mum and dad, as well as the contact details of their owners. For everything you need to know about microchipping dogs read this informative article from the RSPCA.
Don't rush things
Modern cities are full to bursting with smells, sights, and sounds that can make the whole experience overwhelming for even the calmest of canines. To give your dog the best chance of successfully adapting to city living, you really need to take things slow.
Slowly get them familiar with new places such as busy streets, parks or public transport. And praise their calm behaviour with a little treat or two. It's a great way to help them build confidence but you really need to be patient.
For example, try to go out at quieter times of day or take just a short trip on the bus and build up from there. Escalators, lifts and long flights of stairs are all things they might not have encountered before and could really upset them.
It might take time and effort, but by taking things gradually you'll be able to set them up for a happy life in the city!
Follow this checklist for dog-proofing your home
In the often-confined spaces of city houses and flats, there can be many dangers. Make sure your home environment is as safe as possible by reviewing our dog-proofing checklist before bringing a new pup home.
Keep rubbish under wraps.
Cover and contain electrical cords.
Store bags in a sturdy cupboard or out of reach.
Pack any medications, cleaners or chemicals safely away.
Watch out for poisonous houseplants.
Make sure dogs can't escape out of flat windows or balconies.
Create a dog-friendly outdoor space
If you're lucky enough to have outdoor space then read our recent Purely Pets advice guide on how to create a dog-friendly garden. You'll find plenty of top tips to keep your dog safe. These include:
Remove poisonous plants and replace them with pet-friendly ones including lavender and sunflowers.
Keep common pests such as slugs and snails under control. But make sure to avoid chemical pesticides that could harm your dog.
Secure sheds so your dog can't get trapped.
Lay paths and lawn that will go easy on their sensitive paws.
Build a strong, secure fence to keep them in and intruders out. Dog theft in particular has seen a double-digit rise over the past few year Check out this advice from Blue Cross on how to stop yourself becoming a victim of dog theft.
Make your garden fun to stop them getting bored and frustrated.
Give water features a cover or guard to reduce the risk of accidents.
Take extra care with rented accommodation
Not everyone can afford to buy their own home, particularly when you consider the high property prices of city locations. If you're one of the many millions of people who rent then don't forget to check whether pets are allowed in the property before you bring them home.
You might need to ask for permission first or else run the risk of breaching your tenancy agreement and even being evicted.
Make sure to check any agreements carefully and ask questions of your landlord if you're unsure. For example, there might be extra rules for your dog, such as areas which they can't use.
From finding the perfect pet-friendly property for you and your furry friend to dog insurance, it's always important to get expert advice for all your pet-related needs.
Read our ultimate go-to guide to keeping pets in a rented property and stop any problems before they happen.
Give them their own space
No matter how limited your living space is, any dog staying with you deserves a spot they can call their own.
Whether it's a crate, bed, or a soft spot on the sofa they need a place they can go when things get too much.
Plan ahead for toilet time
With outdoor space in cities often at a premium, finding a place for your dog to toilet in peace is an important consideration. If you don't have a garden then you'll need to think carefully about areas nearby that would be suitable for your dog to use.
However, once you've both established a regular routine, toilet trips should get a little easier.
Remember not everyone is friendly
With so many people and pups living close together in the city, chances are you'll occasionally come across someone who might not be dog friendly. So always double check before approaching unfamiliar dogs.
There are many reasons why someone may not want your dog to interact with theirs. They may have been recently bitten, are ill, or are simply nervous around other dogs.
Consider arranging playdates with other well socialised pups – who knows you might strike up a great human friendship, too!
Many parks and open spaces allow dogs, but some don't. If you don't want to land in the dog house with the authorities check ahead beforehand. The same goes for restaurants, cafés and a host of other establishments.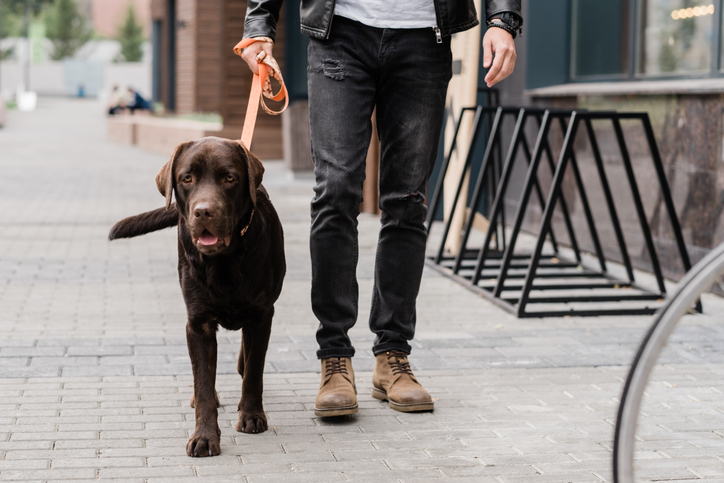 Watch out for broken glass and other hazards
Broken glass or other sharp objects are a regular sight on city streets. Keep an eye out to avoid getting something stuck in your dog's sensitive paw!
Think twice before leaving your dog unattended
Whether you're just popping into a shop, museum or café, remember it's often unsafe to leave your dog tied up outside or alone in a car. Experts have warned that in view of a rise in dog thefts, it really isn't a good idea. Think ahead to ensure that they're safe and happy while you're busy.
Having the right dog insurance is an important way to guard against the risk of theft or straying. Some policies will even pay for an advertisement or reward to look for your missing pal.
When the temperature rises, watch out
Urban areas are well known for rising temperatures during the summer, so it's important to take extra precautions to guard against problems such as dehydration and heat stroke. Read more about the signs of heat stroke here.
At a minimum, you'll want to seek out cool, shaded spots to rest during walkies and carry water so you can keep your pup hydrated. Although, sometimes it's so hot that you really shouldn't take them out during the day at all.
Pavements can become phenomenally hot in the heat of summer. Before setting out it's a good idea to check the ground temperature. If it's too hot for your hand, then it's too hot for your pup's pads!
You might need to change your walking routine to take account of this. Early in the morning or during the evening when the temperatures have cooled might be preferable during the warmer months.
Beware of the cold
Caring for your pet in winter can also be problematic. For example, the grit and salt used to keep paths and roads ice free can irritate and burn the skin. Or even lead to tummy upsets if it's licked off.
For further advice on this and a whole lot more, read our 10 ways to protect your dog this winter. There's bound to be tips and tricks you can use to keep them safe in the colder months.
Beware of tasty temptations
Discarded food and other litter can be a big temptation for your inquisitive pup. As well as potentially harmful food bugs, there could also be things that are poisonous for dogs to eat.
Dogs can become very ill indeed if they eat something they shouldn't.
Train for traffic
One of the most obvious complaints you'll hear from city dwellers is the amount of traffic everywhere. With this in mind, it's essential your dog is kept under close control at all times when you're out and about together.
As well as having excellent recall, you'll also want to get them used to such busy areas. A frightened dog can often act out of character and create a dangerous situation.
Know when your dog is ready to head home
Getting to know your dog well and paying close attention to their body language will help you understand when they've had enough and need to head home.
Pinning their ears back, tucking their tail down, licking their lips, and yawning, are all signs it's time to head back for a cup of tea and a treat.
Always scoop the poop
This should go without saying but keeping your local area clean of dog faeces is an important part of dog ownership.
As well as spreading harmful parasites it's also just plain rude to fail to clean up after your dog. Plus, it could cost you anything from a £100 fixed penalty notice to £1,000 if the case goes to court!
Keep them on a lead
The city is no place for a dog to be running off the lead. Only let them off if you're in a safe and secure area.
Keep the essentials close at hand
Wherever you go together, you'll want to have this list of dog essentials:
Travel water bottle and bowl.
Treats and toys.
Poo bags.
Something to lie on if you're stopping off somewhere.
Dog insurance.
Master the basic commands
It's never too early or too late to begin training your dog to follow basic commands such as 'Sit', 'Leave' and 'Come.' If you're crossing busy streets it could even save their life.
But which dog breeds are most trainable? Well, Purely Pets has taken a look at this important question, too.
Prepare them for being left alone
Over the course of the recent pandemic the bond between humans and our faithful friends has gotten even stronger. According to data gathered by the Dogs Trust, almost half of us (47%) share a bed with our dogs. While 70% of us even include our furry friends in our holiday plans.
Unfortunately, no matter how much we love them, sometimes they have to be left at home alone. This can sometimes lead to separation anxiety for them.
From how to spot the signs to training your dog to be left alone, read this Purely Pets guide to separation anxiety and get prepared now.
Add dog insurance to your city living checklist
No matter where you live, over time veterinary treatment can become expensive. So, if you've recently got a dog then consider protecting them now, before any signs of illness start. By acting now, you'll be assured of all the support you need to care for them.
Dog insurance from Purely Pets will give your four-legged friend the protection they need at a price to suit any owner's budget. Depending on the level of cover you choose, vets' fees for accidents, illness or both can be covered from between £1,000 and £15,000.
There's also a host of other benefits including our online policy management portal and 24-Hour Vet Helpline.
Contact us for the dog insurance you need today.
Policy benefits, features and discounts offered may very between insurance schemes or cover selected and are subject to underwriting criteria. Information contained within this article is accurate at the time of publishing but may be subject to change.
Helpful Pages
Recent Posts
Pet Insurance Quote
98% claims paid *
Claims paid directly to vet
24/7 vet video consultations
Interest free monthly payments