Guide to keeping pets in a rented house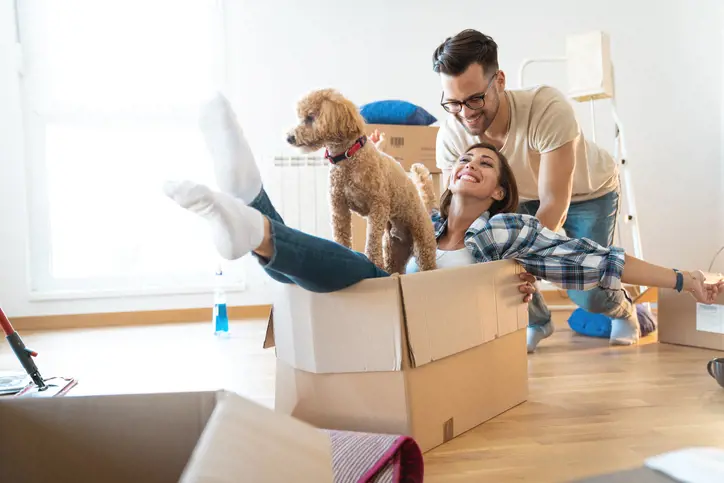 A house is not a home without a pet. And as a nation of pet lovers there are many millions of families up and down the country who would have to agree.
With anxiety and loneliness on the rise no one should be denied the chance to enjoy the companionship, fun and love a pet brings to any household. But all too often, people who rent rather than own their own homes are faced with tenancy agreements that do just that. If you're in this situation then don't despair, just read our go-to guide to keeping pets in a rented house. It's sure to help.
We know that landlords aren't just trying to be difficult by banning pets from their properties. They'll have a lot to think about. Not just keeping their property well maintained but also avoiding any potential impact on neighbours, and any animal welfare or health and safety considerations that may arise.
Whether you already have a pet and are looking for a new home, or already have a home and are looking for a new pet, this ultimate guide to keeping pets in a rented house will help you out.
Read on to learn all about the current legal situation, how to reassure your landlord that you're a responsible pet owner, and how to keep your pet and your landlord happy! As we said, landlords love responsible pet owners, and a sure-fire way to show you have what it takes is to have the right pet insurance to cover any eventuality.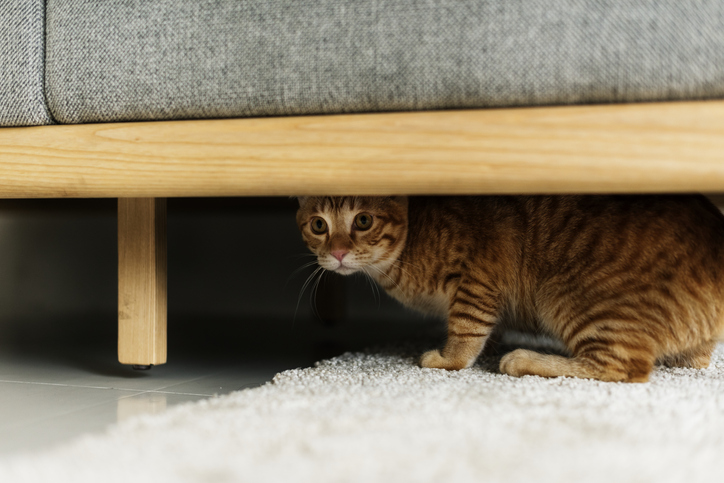 Chapter 1: Keeping pets in rented accommodation – dog and cat lovers see big changes
In 2021, the government introduced changes that meant tenants can no longer be automatically stopped from having a pet in their rental property. A big move welcomed by responsible pet lovers up and down the country.
For many years, people and their pets have struggled to find homes, no matter how well-behaved the pets and their owners are. The government has now finally said that enough is enough. And put an end to the unfair blanket ban on pets adopted by many landlords.
According to government figures, just 7% of private landlords currently advertise their properties as being pet-friendly. A tiny percentage of the current rental stock of properties and nowhere near enough to meet the demand for homes.
This means many people have even had to give up their beloved pets because they couldn't find a suitable property to take them. A heart-breaking decision for any family to have to make. Indeed, animal welfare charity Battersea says that problems finding pet-friendly accommodation is the second biggest reason people give up their cats and dogs.
To help renters and landlords avoid any potential disputes, the government has created a so-called new Model Tenancy Agreement. This is a standard template which landlords are encouraged to use when granting new tenancies. It enables tenants to keep pets by default and stops landlords from issuing blanket bans on their tenants having pets.
The procedure now is that after a tenant has sent a written request asking to keep a pet in the rented property, the landlord has 28 days in which to object in writing to the request.
And rather than just saying 'No' they must also provide a good reason for not allowing the pet. Such reasons could include that the house or flat is too small and keeping a pet there would be impractical. Maybe there's no outdoor space, or the landlord or other renters have pet allergies.
But while this was undoubtedly good news for renters with pets, that doesn't mean landlords are without protections. After all, not all pets are well-behaved! Landlords can still choose who they want to rent their property to. And they're under no legal obligation to grant a renter's request to keep a pet.
Renters will still be held responsible for their pet and will have to pay for any damage caused to the property during the tenancy. To help with this, landlords are advised to include a pet clause in any tenancy agreement. This is so the renter knows what they have to do to be allowed to keep the pet in the property.
These responsibilities could include cleaning requirements, extra garden care, pest control, and mending any carpet stains or scratch-marks before leaving at the end of their tenancy.
In addition, there are sound commercial reasons for landlords to allow pets. For example, they may be able to ask for a higher deposit from a tenant with a pet. As long as it doesn't go over the current deposit limit threshold of five weeks' rent.
Landlords may also choose to charge more rent if a pet is to be kept at the property. Indeed, back in 2020, campaign group Generation Rent said it had seen landlords charging tenants so-called 'pet rents' of between £25 and £50 per month. Amounting to £300 or £600 per year! Enough to pay for your pet insurance and plenty more besides.
Finally, according to research from Battersea Dogs Home, pet owners stay longer in tenancies because once they've found a willing landlord, they're less likely to leave. They also develop stronger community ties, and are more willing to help and support others locally. Surely all music to the ears of a landlord.
Chapter 2: Strategies to win over even the most pet-averse landlord
Perhaps a landlord's number one priority when dealing with current or potential tenants is to protect the property from any damage. So, if you're hoping to keep a pet then you'll need to convince them that this isn't going to happen. Follow the strategies below to get the relationship with your landlord off to a great start.
Ask permission first
With 2021 proving a record year for pet ownership in the UK, you may well be thinking of welcoming a pet into your life and home. However, even if your tenancy agreement says that pets are allowed it's always wise to ask your landlord for permission first. Just in case of any future dispute, try to get this in writing.
Check your tenancy agreement
There may well already be conditions in your tenancy agreement to do with pets. Read them to make sure you know exactly what your responsibilities are.
Tell them all about your pet
Cats Protection advises all potential renters to create a 'Pet CV' to prove their pet is suitable to be kept at the property. In this you'll want to provide details about their breed. This could include details about their size and whether they're considered to be hypoallergenic or not. For dogs, The Kennel Club is a great authoritative source for this kind of information. While for cats, you'll want to consult the Governing Council of the Cat Fancy.
You'll also want to provide confirmation your pet is not listed under the Dangerous Wild Animals Act or Dangerous Dogs Act. And information on how much time they'll be spending alone in the property and who would care for the pet in the event of an emergency.
Ask for a copy of your pet's vet records
When creating your Pet CV be sure to include other details specific to your pet, such as their age, temperament, and whether they've been trained. Your vet will also be able to provide you with proof that your pet has been treated for fleas and worms, is up to date in terms of vaccinations, is neutered, and is microchipped.
Ask for a pet reference from the landlord of your previous house
If possible, ask for a reference from your previous landlord to prove your pet hasn't caused damage to properties in the past. Any extra information like this can work wonders in reassuring your landlord.
Agree to an additional pet clause
As mentioned previously, if your landlord agrees to a pet then you'll probably need to agree to an additional pet clause. Or maybe even a larger deposit or higher rent. You might also need to agree to other conditions such as promising to mend any damage and ensuring that pests like fleas are controlled.
Meet up with your landlord
This might not be convenient but sometimes a good way to put a landlord's mind at rest is for them to meet you and your pet. It's a great opportunity to show that you'd both make great tenants.
Stick to your tenancy conditions
What happens if your tenancy agreement rules out pets, but you've got a quiet older cat or a small, low-maintenance dog? You may well be tempted to sneak them into your property without clearing it with your landlord first. But that would be a mistake. Breaching your tenancy conditions could get you into hot water with your landlord and could even result in eviction.
Instead, it's always much better to speak with your landlord first to discuss your particular situation. If you are ever threatened with eviction then read this helpful guide from Citizens Advice.
For more information on pets in rental properties go to the Tenancy Deposit Scheme information lounge. It's filled with useful guides, case studies, blogs and videos to help.
Chapter 3: What about assistance dogs and service animals?
The situation is different if you need an assistance dog or service animal. For example, if you're visually impaired and require a guide dog. There are specific laws that require your landlord to make a 'reasonable adjustment' if you're disabled and you need an assistance dog to be able to live in the property.
If they refuse then they may be discriminating against you and could be acting against the law.
In some circumstances, a landlord may be able to refuse to make a reasonable adjustment if they have a good enough reason, for example, on health and safety grounds.
If you're having problems with your landlord over this issue then it's important to consult with an experienced adviser, for example at a local Citizens Advice Bureau.
Chapter 4: Tips for looking after your pet that'll keep everyone happy
Proving you're a responsible owner of a well-behaved pet is key to keeping your landlord onside and everyone happy. But how do you do that? Well, here are some tips that you'll want to follow.
Follow a regular routine for feeding your pet a well-balanced diet. Taking care not to overfeed them.
Make sure you're responsible and they're well-behaved even away from the property. If you have a history of pet-related offences, such as fouling, or they have a history of anti-social behaviour, such as excessive barking, then finding a property could be difficult.
Register your pet with a local vet and ensure they have regular check-ups. A healthy pet is a happy pet, and keeping on top of any health concerns is an important part of responsible pet ownership.
Take out pet insurance to protect against any unexpected vet bills. When you're renting a home it's important to budget carefully. It's much easier to deal with a regular small payment rather than a sudden large expense.
Get your dog or cat neutered or spayed when they are old enough. If your tenancy agreement has a pet clause then it may well specify how many pets you are allowed to have in the property. So, an unplanned litter of kittens could cause you problems.
Clean up after your pet. This should go without saying really. This also applies if your rented property has outdoor space. Animal urine and faeces can cause a lot of damage to lawns. If you don't, you could face a fine of up to £100.
Make sure your garden is pet-proof. You don't want your pet escaping into nearby gardens and getting lost or causing a nuisance.
All animals will need some enrichment in the house to keep them happy and healthy. Whether scratching posts for cats or toys and activities for dogs, it will also help to avoid damage to furniture, carpets and other parts of the property.
Both dogs and cats should be microchipped. You can get this done at your vet for a small fee. Although some charities such as Battersea and Blue Cross offer microchipping at a reduced cost or for free.
Take extra care in communal areas. If you share areas with neighbours then it's important to respect that not everyone is a pet lover. If your pet causes a nuisance to neighbours then complaints to your landlord won't be far off.
Buy your pet a collar so you can be contacted if they get lost.
Never leave your pet unattended for an extended period. Arrange for someone to take care of your pet when you're not around.
Provide details of who will care for your pet in the event of an emergency.
Be aware, these are just tips to get your started. They are by no means exhaustive. Animal welfare charities like Cats Protection and Dogs Trust have lots more help and advice on their websites.
Chapter 5: What to look out for when it comes to pet-related damages
Clawing and chewing is all part and parcel of natural pet behaviour. But when you're renting a house, this can cause a real problem for you and your landlord.
Common issues to keep an eye out for include:
Chewed skirting boards.
Scratched doors or furniture.
Stained and ripped carpets.
Damage to lawns and gardens.
Strong pet odours.
Pet hair on furniture and carpets.
Flea infestations.
Ensuring your pet doesn't get bored and has other ways to satisfy their natural instincts will cut down on the risk of such damage. Country Living magazine has 10 simple ways to stop your pets destroying your home.
Be aware that, if you have a pet, then when it comes to the end of your lease your landlord will be checking carefully for pet-related damage. That's why it's also important to check the property thoroughly at the start of the tenancy. Make a note and take photos of whether there was already pet-related damage before you moved in. You don't want to be blamed for someone else's badly behaved dog or cat!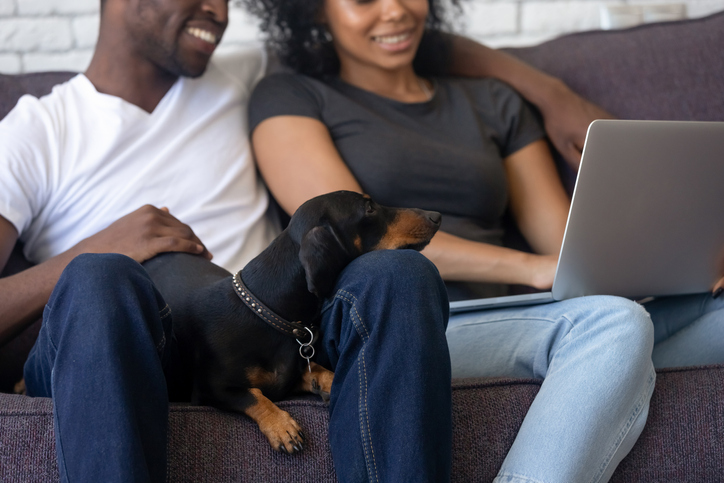 Chapter 6: Why pet insurance should top your moving house to-do list
When renting a house, it's important to invest in the right pet insurance. There are many lifetime cover policies available offering many benefits for you and your pet. As well as vets' fees from £1,000 all the way up to £15,000, you might even receive cover for:
Complementary treatments.
Special diets.
Third party liability.
Death from illness or accident.
Boarding fees.
Holiday cancellation.
Loss by theft or straying.
Can you really afford not to have pet insurance? Why not get a quote from Purely Pets today?
Chapter 7: Where to find the perfect pet-friendly rental
Searching for a new home can be tricky at the best of times. But if you're finding that listings for pet-friendly rentals are few and far between, then it might be worth checking out these websites for suitable properties.
From finding the perfect pet-friendly property for you and your furry friend to pet insurance, it's always important to get expert advice for all your pet-related needs.
So that's our ultimate go-to guide to keeping pets in a rented house. From how to get permission from your landlord and why pet insurance is so important, to how to find the perfect property, we've covered lots of helpful advice here.
Is there anything we've missed? Drop us a line to let us know.
Helpful Pages
Recent Posts
Pet Insurance Quote
98% claims paid *
Claims paid directly to vet
24/7 vet video consultations
Interest free monthly payments