How to care for a three-legged cat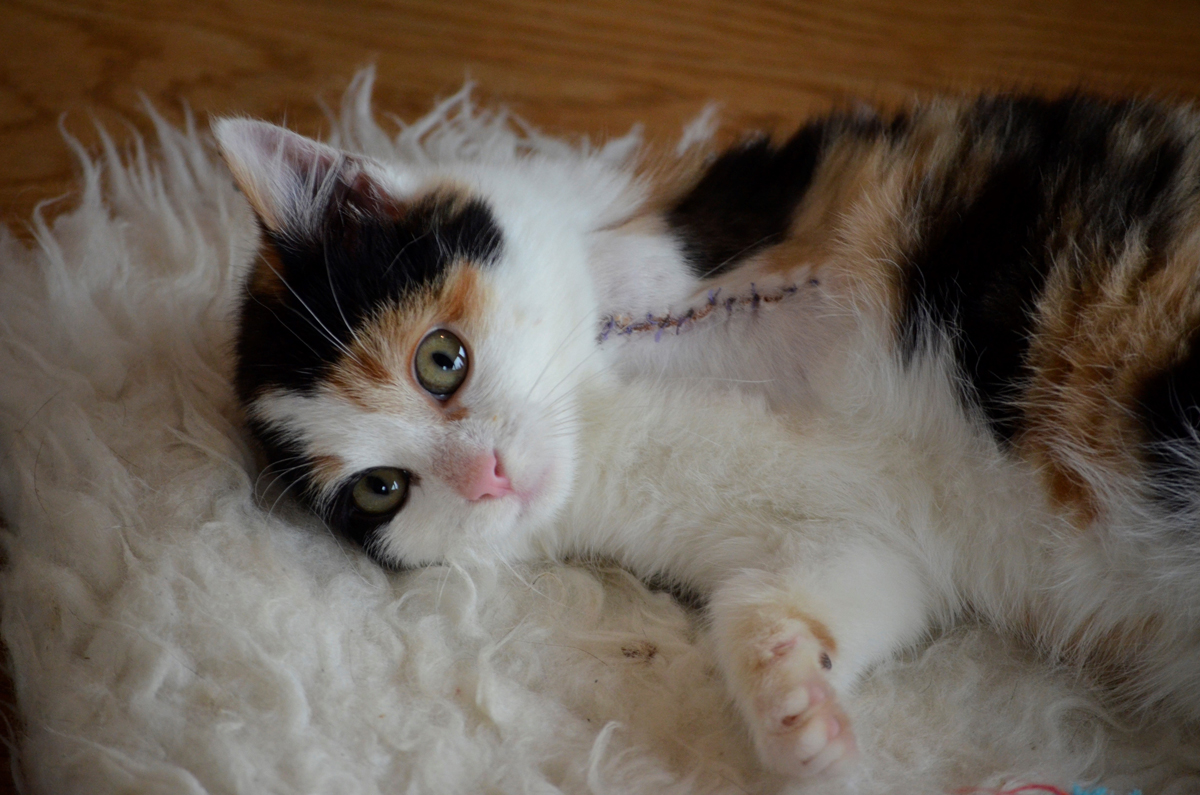 When you watch a cat leaping from a high wall or climbing to the top of a tree, it's hard to imagine that having just three legs would be much fun for a feline. But you'll be pleased to hear that life for a tripawd kitty can be as long and fulfilling as for their four-legged friends – provided they receive the right care and attention.
That's one of the reasons why having the right insurance for your cat in place is so important, so you can get them the help and support they need.
Whether you're looking to provide a forever home for an already three-legged cat or your puss has just lost a limb, there's no reason to be worried. Follow our guide to tripawd care and you'll be certain to have a happy and long life together.
Adopting a three-legged cat
Tripawd cats don't usually require special veterinary care once they have recovered from losing a leg. Therefore, if one is up for adoption then please don't be put off by their missing limb – they'll be just as fun and loving as one with all four.
The only issue to be aware of is the increased risk of potential joint problems later in life. However, knowing this means you can spot any warning signs and take proactive steps immediately.
For example, giving your cat a regular fish oil supplement and keeping an eye on their weight are both easy and straightforward precautions you can take.
If you arrange cat insurance from Purely Pets our range of policies can include complementary treatments and special diets for those in need.
Caring for a cat following amputation
Owing to their inquisitive nature cats have a tendency to get themselves into a few scrapes. While most of the time their luck will hold out, sometimes this isn't the case.
For example, being attacked by another animal or being involved in a road traffic accident can both lead to limb amputation.
The thought of your furry friend losing a limb is clearly traumatic but there's no reason to despair. With the recent advances in veterinary care and technology, amputation has become a much more common procedure.
Having cat insurance in place is the perfect way to cover yourself against the financial impact of such dramatic events.
Following the operation, your vet will advise you on the aftercare needed for your pet to make a full recovery.
Make sure you get any advice in writing and don't be afraid to ask as many questions as you need to be clear. This is particularly important if other people will be involved in your cat's post-operative care.
The vet will undoubtedly prescribe medication to help with pain relief and give you specific instructions on wound care.
You'll also probably be told to keep your pet indoors, restrict their exercise and keep them calm – certainly, in the initial phase after amputation.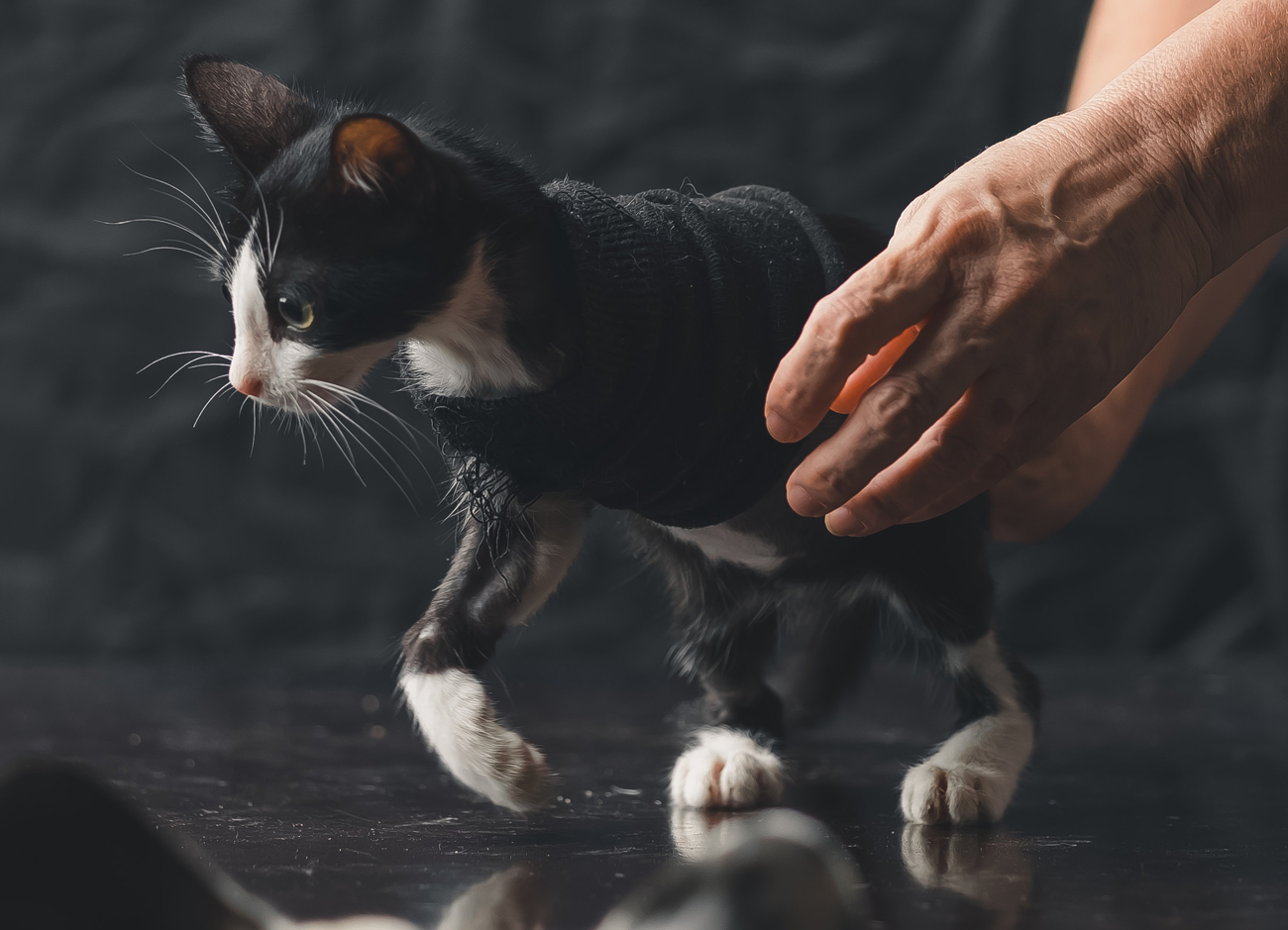 Top tips for three-legged life
Getting your cat home for comfort and cuddles is such a relief after they've gone through an operation. Follow these top tips to get your precious puss on the road to recovery.
Make sure they have a comfy, quiet and easily accessible place to recover. Having just three legs can be tiring so they'll need a safe place to rest and recuperate.

Move food, water, litter tray and scratching post to within a short distance. Your cat is likely to appreciate these being close at paw – at least for the first few days.

Other cats or pets in the family might notice a change and be inquisitive. Avoid problems by reintroducing them gradually – particularly if other furry family members want to play.

Be aware that your cat's athleticism will have reduced considerably. So, move furniture closer together so it isn't so difficult to use – at least until they get their strength and confidence back.

Once they're feeling better, they might still be nervous about going outside. Supervise them at first and make sure they can easily exit and enter the house and garden.

Be patient about litter tray issues. If your cat struggles to use the litter tray then consider providing a step for easy access. Also be aware that many previous activities may be more difficult with three legs instead of four.

Give a helping hand with grooming. Just as with toileting, your cat might need assistance, especially if there are areas they can no longer reach.
While the initial period of adjustment can be tricky, cats are amazing at adapting to the three-legged way of life.
Just because your cat has three legs doesn't mean they aren't capable of jumping, running, climbing and playing – although perhaps a little slower than in their four-legged state!
Keeping kitty fit and healthy
Maintaining a healthy weight and exercise regime is important for cats, particularly as it will guard against joint problems such as arthritis.
More weight means more pressure on joints so it's important to keep your puss well-toned and in shape. Strong muscles help support the joints in the back and remaining limbs that might come under increased strain.
Speak to your vet about an ideal weight for your cat and how to implement an appropriate diet. Policyholders with Purely Pets have access to a 24-Hour Vet Helpline to get advice and guidance for any pet-related questions.
The helpline is provided by VetsDirect and all calls are handled by registered veterinary nurses who have a minimum of three years' practical experience.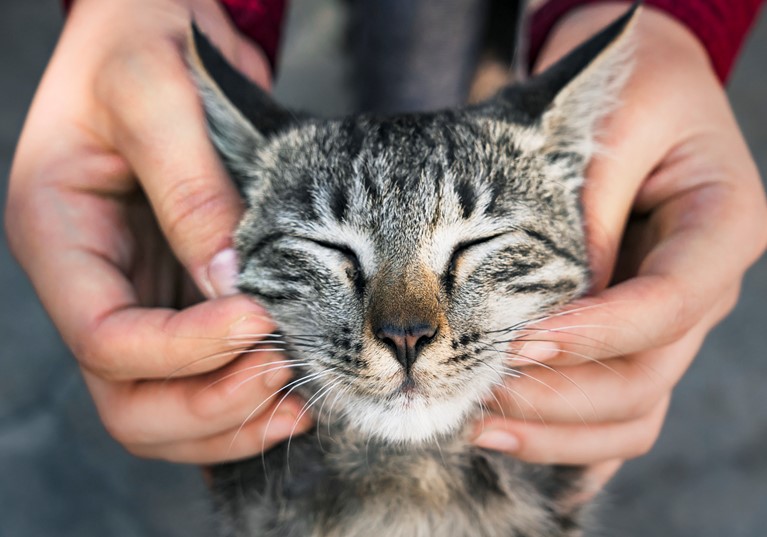 Protect your three-legged cat with Purely Pets
No matter how many legs your marvellous mouser has, at Purely Pets we love all our furry friends and appreciate all their different needs.
That's why we've designed 15 levels of lifetime cover to make sure there's always one that's a perfect fit for your feline.
You can choose cover for vets' fees ranging from £1,000 to £15,000. Many cat insurance policies will also give you added benefits such as cover for dentistry, loss of pet, third party liability and overseas travel.
Get a quick cat insurance quote from Purely Pets today.
Helpful Pages
Recent Posts
Pet Insurance Quote
98% claims paid *
Claims paid directly to vet
24/7 vet video consultations
Interest free monthly payments