How to care for your dog when you're ill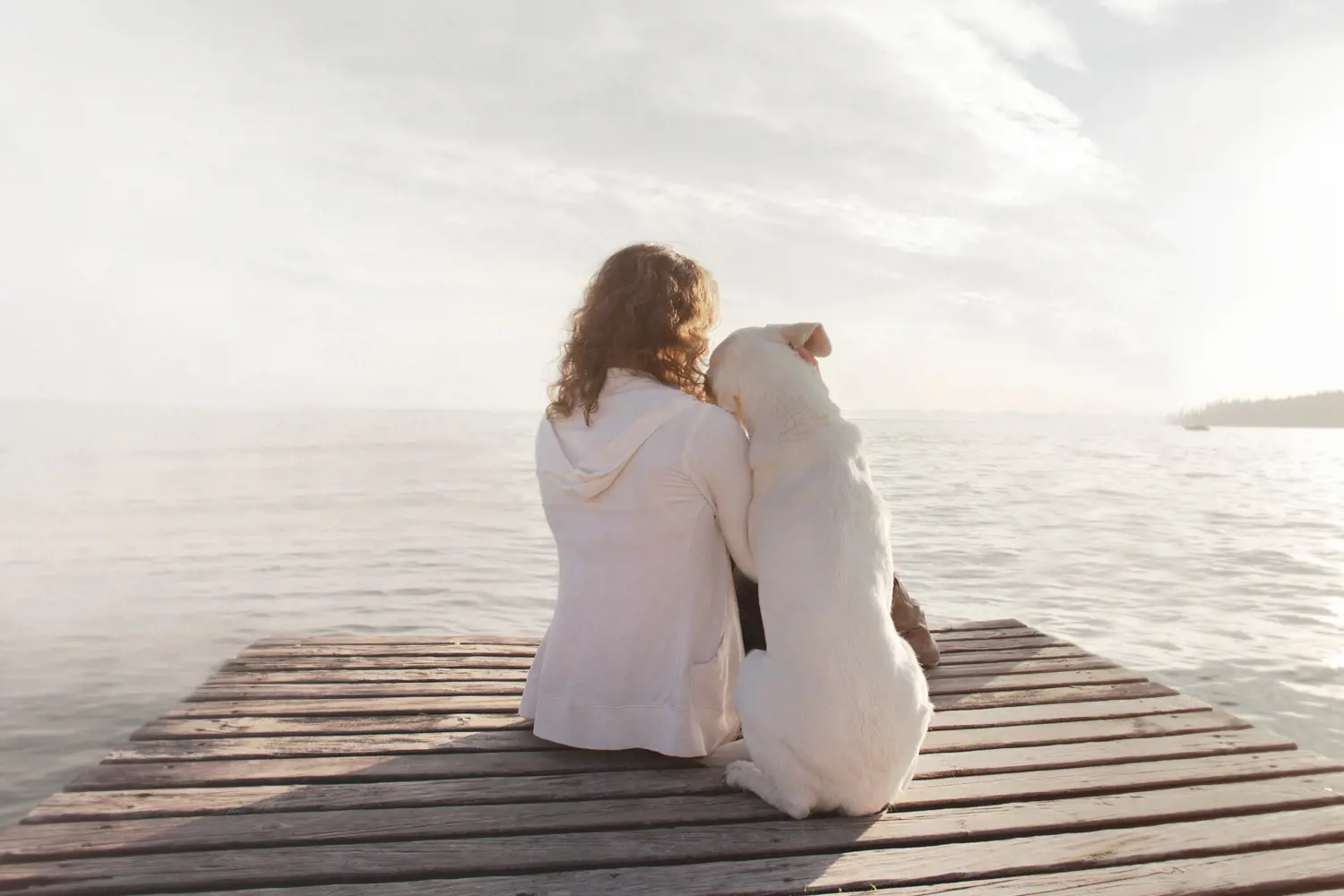 Illness, injury or other health problems can be a challenge at any time in your life. But when you have a loyal pooch depending on you, it can all get a bit overwhelming, especially if you're unable to get around as much you used to.
Along with having dog insurance for your furry friend to cover any doggy-related emergencies, responsible pet owners need to plan ahead for this kind of eventuality.
What will you do about walkies, feeding times and the daily doses of love and attention if you're out of action?
Whether it's a long-term illness, a sudden injury or any other health-related condition, having your four-legged friend taken care of will save you a lot of stress and anxiety, allowing you both to adapt to your new circumstances.
Here at Purely Pets we've put together some handy tips for you to consider when putting your sickness plan in place.
Key questions to consider
Ask yourself the following straightforward questions to help you decide what kind of support you need. Having a plan to care for your pet during this time might stop future heartache.
How long do you think you'll need support?

How comfortable is your dog with strangers and new situations?

Does your dog find new routines stressful? If so, how can you reduce their anxiety?

Is there already someone willing and able to look after your dog for an extended period of time?

If that person also gets ill or is no longer able to help, do you have an alternative?

Is there a financial cost to having your dog looked after? Can you afford it for the whole duration?

Have you got adequate dog insurance in place to cover your pet if it falls ill or has an accident?

If circumstances change even more, can you still count on that person to help?

Is the person reliable, kind and good with dogs?

Are you comfortable leaving your beloved pet with this person?

Do you plan on this being a permanent arrangement?
Once you've considered these questions you should be a bit clearer as to what kind of care best suits your canine companion. Below are just some of the options and their pros and cons.
But even if the worst does happen and you don't have a plan in place, there's still nothing to fear.
If you're hospitalised, under the Care Act 2014 the local authority has a duty to care for any pets that can't be cared for by your family.
They also have a duty under the Animal Welfare Act 2006 to ensure the welfare needs of your dog are met while they're responsible for them.
The RSPCA has lots of information on this. However, it's clearly better to make arrangements yourself as you know your dog better than anyone else.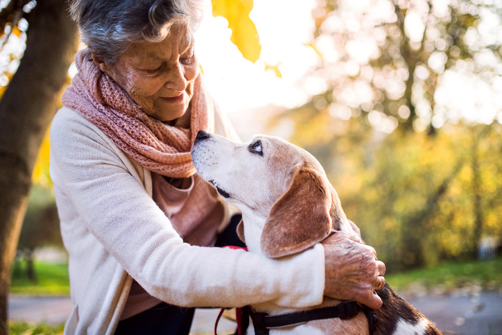 Family and friends
If you still live in your own home and have family and friends nearby, hopefully there are plenty of options available in terms of pet sitting.
Perhaps you can't get about as much as you could but your doggie still needs their exercise? In that case, an active friend or family member may be able to lend a hand. If you've just added a new member to the family, dog insurance is considering for that extra peace of mind.
Pros
In an emergency help can arrive quickly.

Family and friends will likely already know the dog and many of your routines.

If the person is familiar to the dog it will make the change much less stressful.
Cons
Allergies, home restrictions and changes in the circumstances of family and friends can mean this is only a temporary fix.

Something more formal might need to be put in place as back-up.
Having a dog can be a great way to make friends and also get support. Join dog groups in your area or search for dog-related events.
Perhaps get to know a local pet rescue group — they'll have lots of info about support available to you.
And if you're dealing with a continuous incapacitating illness, join groups specific to the illness and get to know other dog owners in the group.
You might be able to support each other not only through your illness but also with your pet care.
Pet walkers and sitters
Many local areas have professional dog sitters and walkers who'll happily care for your furry friend.
Check Facebook or local listings for someone near you, it's a great way to find a responsible referenced dog carer.
Spend time selecting and introducing the right person to your pooch – it'll make everything much easier further down the line.
Alternatively, there are many other groups out there. For example, Borrowmydoggy is a community of dog lovers who'll walk your dog if you're unable to.
Rover is a similar insured group of dog sitters who'll look after your pet if you need to be away from home for a while – perhaps for a hospital stay.
While you have dog insurance in place, it's also important that your dog sitter or walker is also adequately covered.
Pros
Younger or older dogs might benefit from the one-to-one care of a professional sitter or walker.

Look for sitters with professional training and qualifications in animal first aid, animal behaviour and animal care.

A professional dog sitter or walker will probably send you a daily picture of your trusted friend so you can check on their wellbeing.

Watching a daily video of them walking or playing could also be a fantastic highlight to your day. One that makes the road to recovery so much more worth it.
Cons
A dog who's frightened of strangers may find it hard to adapt.

Pet sitters can be expensive, especially if used on a long-term basis.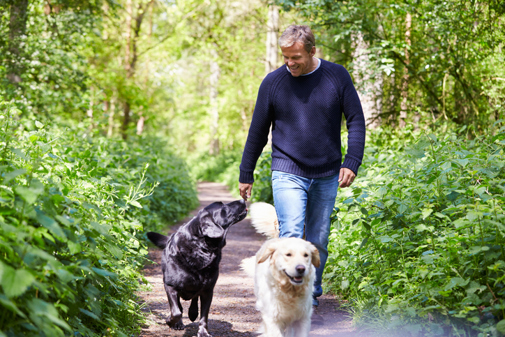 Fostering
There are many people only too happy to give a temporary home to a pup in need – particularly if you're going into hospital for a while.
A great place to start is to contact The Cinnamon Trust. This specialist national charity has a network of volunteers who offer a fostering service, giving your pet a loving home until you're ready to take charge again.
It seeks to relieve the anxiety and problems sometimes encountered by elderly and terminally ill people and their pets.
Since the Trust's launch in 1985, it has alleviated a great deal of human sadness and animal suffering.
Pros
Staying with a volunteer who cares deeply for animals means your dog is likely to have their needs met.

Foster homes with other pets will mean your dog has companionship.

Less stressful and much cheaper than some other options.
Cons
There might not be a volunteer who can help in your area.

If you take an informal route to fostering you will need to check-up on the prospective foster family yourself.

Your dog may become stressed if there are lots of other animals also being fostered at the same time.
Further questions to consider
If your dog will be staying in someone else's house then think about the following:
Do they have another dog or pet? If so, does your dog get on with them?

Are there children in the family? If so, is your dog comfortable around them?

Do they have a garden? If not, will they walk your dog and where?

Is the property safe and secure for your dog?

Does your dog insurance cover the changed situation?
Whatever option you choose make sure you give the following information to your dog's temporary carer:
Vet details

Details of any pre-existing medical conditions

Emergency contact number

Details of any medication your dog is on

Feeding routines or quirks

Details of any food sensitivities

Your dog's microchip information in case they get lost

When and for how long you walk them each day

Any behaviour issues

Any household rules, such as if your dog is allowed up on the sofa etc

Any toys or home comforts the dog is used to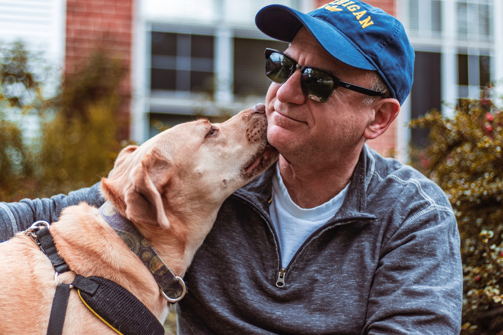 Dog boarding kennels
Sometimes the only option is for your beloved dog to leave home and be put into a dog boarding kennel for a period of time.
Just like you, a proper boarding kennel should have dog insurance in place to protect its canine residents.
Pros
Kennels and boarding services are professional organisations with trained staff always available to attend to your dog's needs. Check that staff are sufficiently trained and they adhere to professional standards of care.

New regulations mean that the kennel must provide a suitable environment, monitor your dog's behaviour and keep comprehensive records.

Depending on the service, kennels can often be cheaper than dog sitters.

There are a range of kennels that can offer a range of facilities to meet your dog's needs.
Cons
Can become costly if they charge extra for bathing and other services.

If your dog has particular needs or is very young then it might not be suitable.

There can be a risk of disease from other kennel occupants.

Your dog might get lonely or attacked by other dogs.
Standards for dog boarding kennels
Since the law changed in October 2018, new standards must now be met by those running a licensed dog boarding kennel, home boarding business or doggy daycare.
Such businesses are now required to meet specific standards. These regulations focus on meeting the welfare needs of dogs by providing enrichment and company for the dogs while they're being boarded.
The RSPCA has some great advice on choosing the right kennel for your dog. As a guideline, while staying in boarding kennels your dog should always have:
Access to their own sleeping area at all times.

Enough space in the kennel to let them sit and stand at full height, lie down fully stretched out, wag their tail, walk and turn around.

At least one daily walk outside of their kennel. Kennels looking for higher standards will offer two walks per day, each lasting for at least 20 minutes.

Their own kennel unit unless you've given permission for your dog to share with another dog from your household.

Access to toys.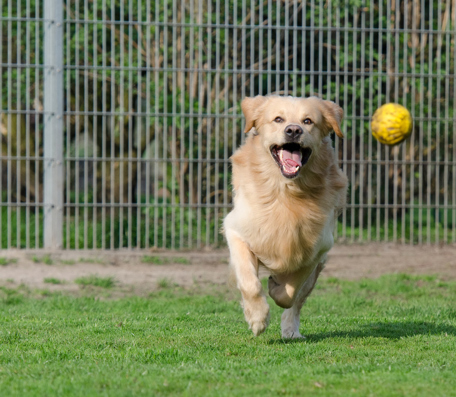 Pets and nursing homes
Moving into a nursing home or sheltered accommodation can be stressful enough without losing contact with your faithful companion, too.
Contact the housing and care homes in your area. Many organisations understand the comfort and love a dog provides and have pet-friendly policies.
You can also contact the Elderly Accommodation Counsel, who have a list of which councils and housing associations accept pets in their retirement properties.
A list of pet-friendly homes in England, Scotland, Wales and Northern Ireland can be found at the EAC Housing Care website.
You can also call the EAC FirstStop Advice line on 0800 377 7070 or complete a contact form.
Rehoming
Sometimes rehoming really is the fairest and best option for a dog.
As hard as it may be on you both, there are many charities that specialise in finding your pet a new, loving home that suits them.
National charities such as Blue Cross, the Dogs Trust and the National Animal Welfare Trust, along with regional charities such as Animal Samaritans in the South East or Bath Cats and Dogs Home in the South West, are always ready to help.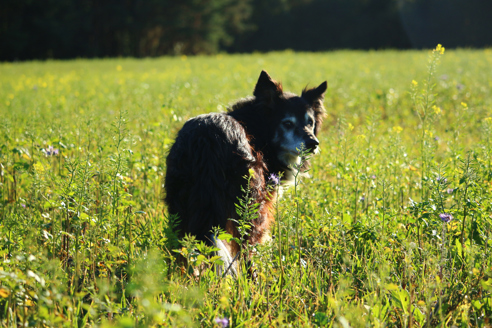 Get a dog insurance quote from Purely Pets
Whether physical or emotional, whatever you're trying to deal with in your life can sometimes leave you with little time to worry about anything else.
However, sometimes our beloved dogs can give us a severe fright that could add to our anxieties.
If a pet emergency does occur then having adequate insurance cover will help you get them the very best in veterinary care.
Take out award-winning dog insurance through Purely Pets and you could enjoy benefits such as:
Lifetime cover for vets' fees from £1,000 to £15,000, depending on the level of cover you've chosen.

15 cover levels to suit all budgets and needs.

A choice of excess, starting from just £60.

Cover for special diets and complementary treatments.
In addition, Purely Pets offers policyholders a 24-Hour Vet Helpline, so you can get advice, reassurance, or answers to your canine questions at any time.
Our online portal 'Manage My Policy' also gives you 24-hour access to your documents for greater flexibility in managing your policy at a time that suits you.
Get a quote for dog insurance today.
Helpful Pages
Recent Posts
Pet Insurance Quote
98% claims paid *
Claims paid directly to vet
24/7 vet video consultations
Interest free monthly payments