National Walk Your Dog Week 1st – 7th October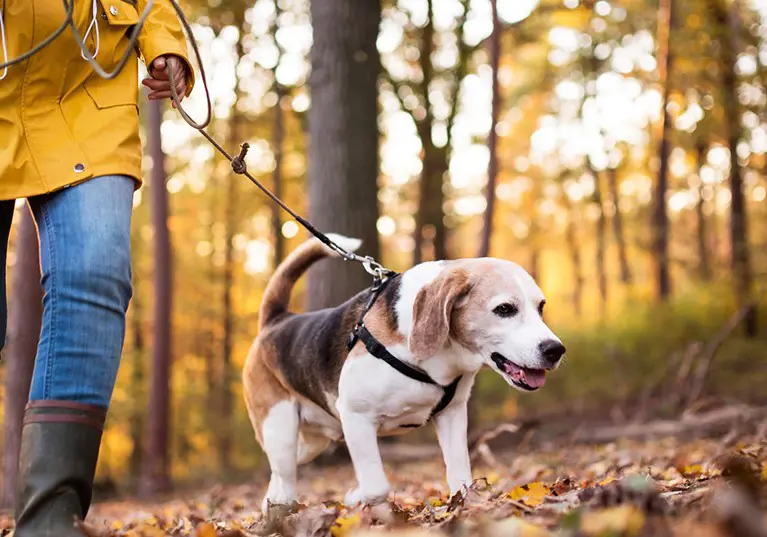 It's no secret our furry friends love walkies, just say the word, or show their lead and the excitement can clearly be seen (well, in most)!
1st-7th October marks National Walk Your Dog Week. This aims to raise awareness of canine obesity and highlight the importance of keeping your pet active. The Royal Veterinary College (RVC) revealed that over 7% of the UK's dogs were considered obese.
While a few pounds may not too be bad for your pooch, pet obesity is a serious problem. Much like in humans, pet obesity can cause arthritis, heart disease, diabetes and certain types of cancer.
There are many benefits to walking – for both you and your pooch!
Physical exercise
We know that most dogs get daily walks depending on individual circumstances. The amount of exercise your dog requires will depend on their breed, age and general state of health.
As a very broad rule of thumb, you'll probably want to get your dog outside for a spot of exercise between once and four times a day – but these sessions can include everything from a long walk, via shorter bursts, right down to popping out for toilet time.
You can check the Kennel Club's A-Z of breeds to find out how much daily exercise your dog breed requires.
Bonding time
Man's best friend – what do we like to do with our friends? We all like nothing more than spending time together.
By walking your furry friend, you are providing your pet with attention and the interaction that they adore.
Time spent walking side-by-side, playing fetch or running off lead is a wonderful way to bond with your pet.
Mental stimulation
Exploring new surroundings is a natural instinct, it allows your pooch to familiarise themselves with new objects and surroundings.
By exploring the great outdoors your pet gets to discover new sights, smells and sounds, providing them with mental stimulation. Allowing you down time to enjoy getting back to nature.
Behaviour
Just like humans, our pets can experience boredom and can become agitated. Regular walks help to aid behaviour by allowing your pooch to blow off steam and use up their energy.
Walks can stimulate and satisfy your pet's appetite for play and adventure. This may in turn result in a calmer and more obedient pet at home.
Social interaction
Like humans, our furry friends are social creatures who require affection, attention and social interaction.
Although they'd be quite happy with your affection and attention at home, by taking your dog on regular walks and allowing them to sniff, run and play ensures that they learn how to interact with other animals and humans.
Put on those walking shoes, grab the lead, some treats for the road and explore the great outdoors with your furry friend.
Helpful Pages
Recent Posts
Pet Insurance Quote
98% claims paid *
Claims paid directly to vet
24/7 vet video consultations
Interest free monthly payments