15 tips on how to enjoy travelling abroad with your dog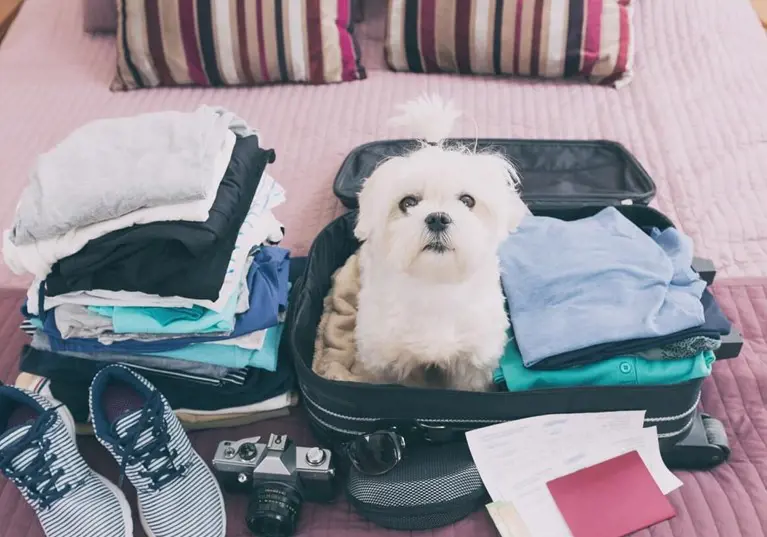 Travelling abroad with your dog needn't be stressful*. Here are 15 quick tips to make sure your holiday goes as planned.
Taking your dog overseas is a big decision and there's a lot of preparation involved to make sure it goes smoothly.
Some owners want to take their pooch on a European tour, while others are moving abroad permanently and don't want to leave their four-legged family member behind.
Whatever your situation, you've probably got a lot of questions about what documentation you need, the best route to take, and how to keep your dog comfortable on a long journey.
Don't forget to protect your beloved pet with dog insurance, lifetime cover. When you have a policy in place, it alleviates financial pressures which may have caused a delay or hesitance to get treatment for your canine in an accident or emergency.  
Are you looking for advice to make sure your overseas trip with your dog goes to plan? Here are some top tips from Purely Pets.
1. Check what vaccinations and treatments your pet needs
Have you ever had to visit your doctor for some vaccinations before travelling abroad? Or maybe you had to pick up some malaria medication before leaving home? It's no different for our canine companions.
Your dog will need vaccinations against health conditions we don't have in the UK. For travel to the EU, canines need a rabies vaccine, after which you have to wait 21 days before leaving the UK.
For countries outside the EU, you'll need to check the requirements with the embassy or your vet. Certain destinations might warrant extra protection for your pet against mosquitos, ticks, and sandflies.
Just like with your pup's regular vaccinations, these aren't included on dog insurance, lifetime cover plans, so make sure you budget for these treatments when planning your trip.
According to Gov.uk, your canine companion will also need tapeworm treatment no less than 24 hours and no more than 120 hours before you arrive in the following countries:
Ireland
Northern Ireland
Finland
Norway
Malta
2. Get your pet microchipped
The Blue Cross reminds us that all dogs in England, Scotland, and Wales must be microchipped by law, so your hound should already have this travel requirement.
Since the legislation came into place on the 6th April 2016, all puppies over 8 weeks old must have a microchip. If not, they will not be able to travel overseas and you will also face a £500 fine.
Microchipping is also not included on your dog insurance, lifetime cover plan as a majority of policies will only cover treatment for accidents and illnesses.  
3. Contact your vet for a health certificate
If your pooch is joining you in Northern Ireland or Europe, they need an animal health certificate (AHC). If you're going outside the EU, you'll have to get an export health certificate (EHC) and complete an export application form (EXA).
An official veterinarian (OV) needs to fill out the certificate, so contact your local vet practice to see if there is one on-site. If there isn't, ask if they can recommend someone local.
Once you have the appointment booked, you'll need to have your dog as well as the right documentation and information ready on the day:
Your pet's medical records and vaccination card
The date your dog was microchipped
Evidence of rabies vaccine in the last 3 years
Tapeworm treatment details
The country you're visiting
The health certificate must be issued in both English and the language of the place you're visiting. When you get the AHC, you have 10 days to enter the EU. Once there, the certificate lasts for 4 months or until you return to the UK.
4. Wait until they're old enough
Travelling with a young puppy can be even more stressful than with an older dog. They have high energy levels and need lots of care. If your circumstances require you to travel with your young pet, they will have to be at least 15 weeks old.
This time frame allows for the first 12 weeks of their life, by the end of which they should be up-to-date with regular vaccinations. You then need to take them for the rabies vaccine and wait for another 21 days for it to take effect.
Don't forget to protect your playful puppy with insurance. With Purely Pets, you can get dog insurance, lifetime cover from as young as 8 weeks old to make sure your faithful friend can get emergency treatment throughout every stage of its life.
5. Check the laws in the countries you're visiting
Although the rules across the EU countries are similar regarding dogs, it may vary. Some countries require canines to wear a muzzle in certain areas, particularly on public transport.
Research your destination and the law surrounding pets to make sure you don't get into trouble on your holiday.
6. Find the right accommodation
Even though you might think your four-legged family member is the cutest being on the planet, not everyone will agree.
Some hotels, apartments, and other types of accommodation don't let you take pets, so contact your prospective lodgings before you book to make sure they are welcome.
You should also check if your dog can go with you to restaurants, beaches, and other attractions, otherwise they will need to stay in the accommodation alone, which could prove very stressful in unfamiliar surroundings.
7. Stay somewhere with plenty of walking spots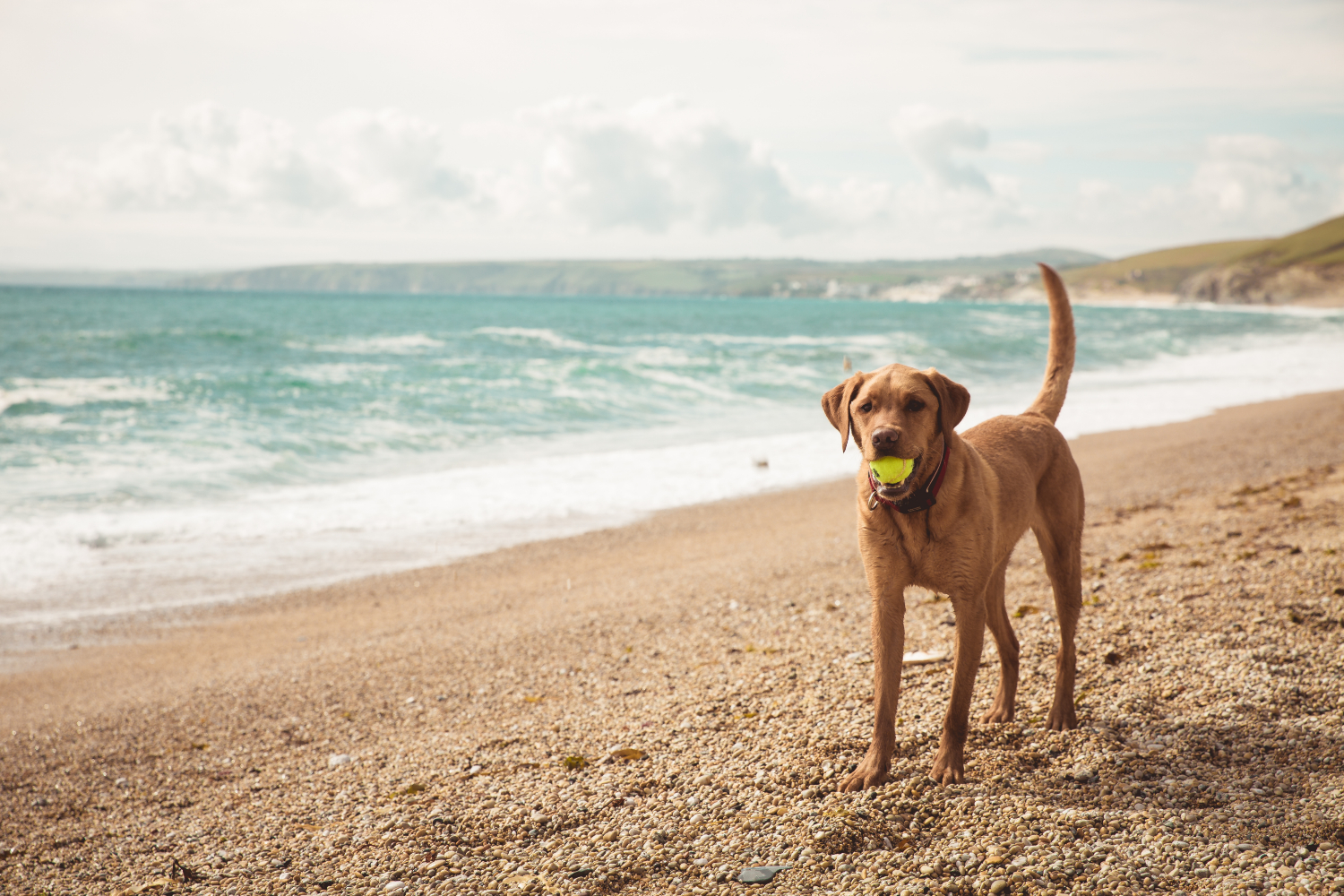 You might be going away for some well-deserved rest and relaxation, but your pooch still needs daily walks. Whether you're heading to a busy city or somewhere more rural, make sure there are plenty of open areas to exercise your hound in, like:
Parks
Beaches
Forests and woodland
Public footpaths through fields and hills
8. Choose somewhere with an ideal climate
With the constant change of weather in the UK, you might think your canine can withstand all climates, but this isn't the case.
Extreme colds in Northern Europe or scorching temperatures in the South can make your beloved canine very uncomfortable and even ill. The last thing you want is for your pet to get poorly and have to claim on your dog insurance, lifetime cover because of something like heatstroke.
Plan your trip somewhere with a temperate climate or make sure you take extra precautions to protect your pup in extreme weather.
9. Research local vet facilities in your destination
It's a good idea to look up the closest vets and animal hospitals to where you are staying in case your canine companion needs urgent care while you're away.
Make sure your dog insurance, lifetime cover is valid when you go on holiday to help you pay for any emergency treatments they might need.
10. Take measures to keep them safe abroad
When you visit new places, you need to take precautions to make sure you stay safe and you need to do the same for your playful pup. Here are a few suggestions to keep your pet out of trouble on holiday abroad:
Get your four-legged friend a new dog tag with its name, phone number, and the address of your accommodation on it in case it gets lost.
Take them out to the places near your location so it gets used to the surrounding area.
Walk them on a lead unless you're sure they are in a safe area away from the road and other hazards.
Never leave them tied up somewhere that could cause them harm, like outside a shop in the scorching sun.
Take a LED collar or attach a small light to it when taking them out in the dark.
Keep a constant eye on them and look for signs they are uncomfortable, bored, or stressed.
11. Decide on the best mode of transport
If you're going on a journey out of the EU, you will probably be flying due to the long distance. Within the EU, though, you have two other options to consider – by ferry or the Eurotunnel.
It may be a good idea to consider as flying can be stressful for dogs as, unless they are an assistant animal, they have to travel in the cargo and won't see you for the duration of the journey.
Each method of transportation has its advantages and disadvantages, so we've put together this handy table to compare them below and decide which works best for you and your pet.
Mode of Transport
Pros 
Cons 
Ferry

Dog-friendly cabins to stay together for the duration of the journey
Dog-friendly zones to walk with your pet
Allow dogs to board as a foot passenger

Your dog may need to wear a muzzle
Some routes require dogs to stay in the car for the journey

Euro-tunnel

Both dogs and owners can stay together in the car
The journey is usually quick 
There are specific dog exercise areas on either side of the crossing

Your dog has to stay in the car for the entire journey
12. Pack the right stuff
You're used to packing for yourself and have got cramming everything into a suitcase down to a fine art, but make sure you don't leave any of your dog's bits and pieces behind.
Your faithful friend relies on you for all its wants and needs, so double-check you've got the following before setting off:
Collar with ID tag and lead
Comfy bed to sleep on
Food – especially important if your dog has a special diet and the food is hard to come by
Water bottle for journey
Favourite toys
Poo bags
Water and food bowls
A muzzle (some countries require them to wear these in public)
Crate or harness
Vaccination card and health certificate
Proof of dog insurance, lifetime cover
Toothbrush and toothpaste
Any prescribed medication
13. Prepare for the journey
Once you have your dog insurance, lifetime cover up to date, all the paperwork and vaccinations done, and have booked your transport, it's time to prepare for the long journey.
Your pooch might have spent hours in a car in the UK, but boarding a ferry, the Eurotunnel, or even a plane is an entirely different experience.
There are a few things you can do to make sure the journey stress-free and safe for them:
Get them a car crate or harness that has been crash tested.
Give your dog enough water to last the whole journey.
Plan regular breaks to use the toilet and stretch their legs.
Have food and treats to hand for when your pet needs them.
Take some of their favourite toys to keep them busy and reassured.
Make sure they have a comfy bed or place to lie and rest along the way.
14. Stick to their routine
You might be looking forward to late nights and long lie ins on holiday, but your canine companion is a sucker for routine. Sticking to the same schedule as you do at home can help your pet feel reassured in its new environment. 
Try your best to keep to your dog's normal walking, feeding, and toilet break times so it doesn't become anxious. You should also aim to give them the same type of food they eat at home to avoid an upset tummy.
15. Consider alternative arrangements
If reading through this has got you thinking that perhaps your pooch won't be so good on holiday, it might be better for them to stay at home. Not all dogs can tolerate long journeys. They might get car sick or become anxious while travelling out of their home environment.
If you're worried about your canine companion becoming overwhelmed abroad, try to organise somewhere for them to stay while you go away.
The best option is to have a well-known family member or friend stay at your home with your dog or take them to theirs if that isn't possible. Otherwise, you will need to contact a trustworthy dog sitter or reputable kennel to board them in.
Is my pet passport still valid?
If you used to use a Great Britain-issued pet passport to take your dog around Europe with you, it is no longer valid. You will need to get a new animal health certificate (AHC) for every time you visit Northern Ireland or Europe.
Remember, the AHC can't be done any more than 10 days before your travel date, and it needs to be completed by an official veterinarian (OV). You should plan well in advance for this by contacting your vet as they might not be able to fit in last minute appointments.
How long does an animal health certificate (AHC) last?
From the date of issue on your AHC, it will be valid for:
10 days for entry into Northern Ireland or the European Union.
4 months for continuous travel inside the EU.
4 months for re-entry into Great Britain.
If you come back to Great Britain within the 4-month validity period and want to leave again, you will need to get a new AHC.
Can I travel with more than one dog?
Yes, you are allowed to travel with up to five dogs to and from the UK. The only exception to the rule is if you're taking animals that are going to be in:
A show
A competition
A sporting event
Upon arrival in your destination country, you'll need to provide evidence of their participation in the event. All dogs must be over 6 months old and meet any other requirements the host country asks for.
Can my pet travel with me in the cabin of an aircraft?
Government regulations in the UK state that pets cannot fly in passenger cabins unless they are a registered assistance dog.
Certain airlines do allow small breeds in cabins when leaving the UK, like KLM, Air France, and Lufthansa, but when they return to the UK, they need to go in the cargo.
This is a deal-breaker for many pet parents, and they decide to find alternative arrangements for their four-legged family member while they go away on holiday. If you still want to take your dog with you, consider travelling on a ferry or the Eurotunnel.
What do I need to do upon arrival in the EU?
When you arrive in the EU with your dog, you need to head for a Traveller's Point of Entry. You will be asked to produce proof of their microchip, AHC, vaccinations, and treatment for tapeworms (if necessary) before you can continue on your trip.
What do I need to bring a dog into the UK?
Perhaps you live outside the UK and are planning to move back but have a canine companion you want to bring with you.
The rules are similar to those for pets leaving the UK but do vary depending on where you're coming from. To return or move to the United Kingdom with your dog, they will need:
To have been microchipped
To have a pet passport or animal health certificate
To have been vaccinated against rabies
Pet passports are only accepted from countries in the EU and a select few others, which you can find on the Gov.uk website. All other dogs will need the animal health certificate.
If your country of residence isn't listed on the link above, then your dog will also need to have a blood test before travelling to check for rabies.
According to Gov.uk, the test must be done at least 30 days after their rabies vaccination and then you must wait a further 3 months before you can travel.
Protect your canine companion at home and abroad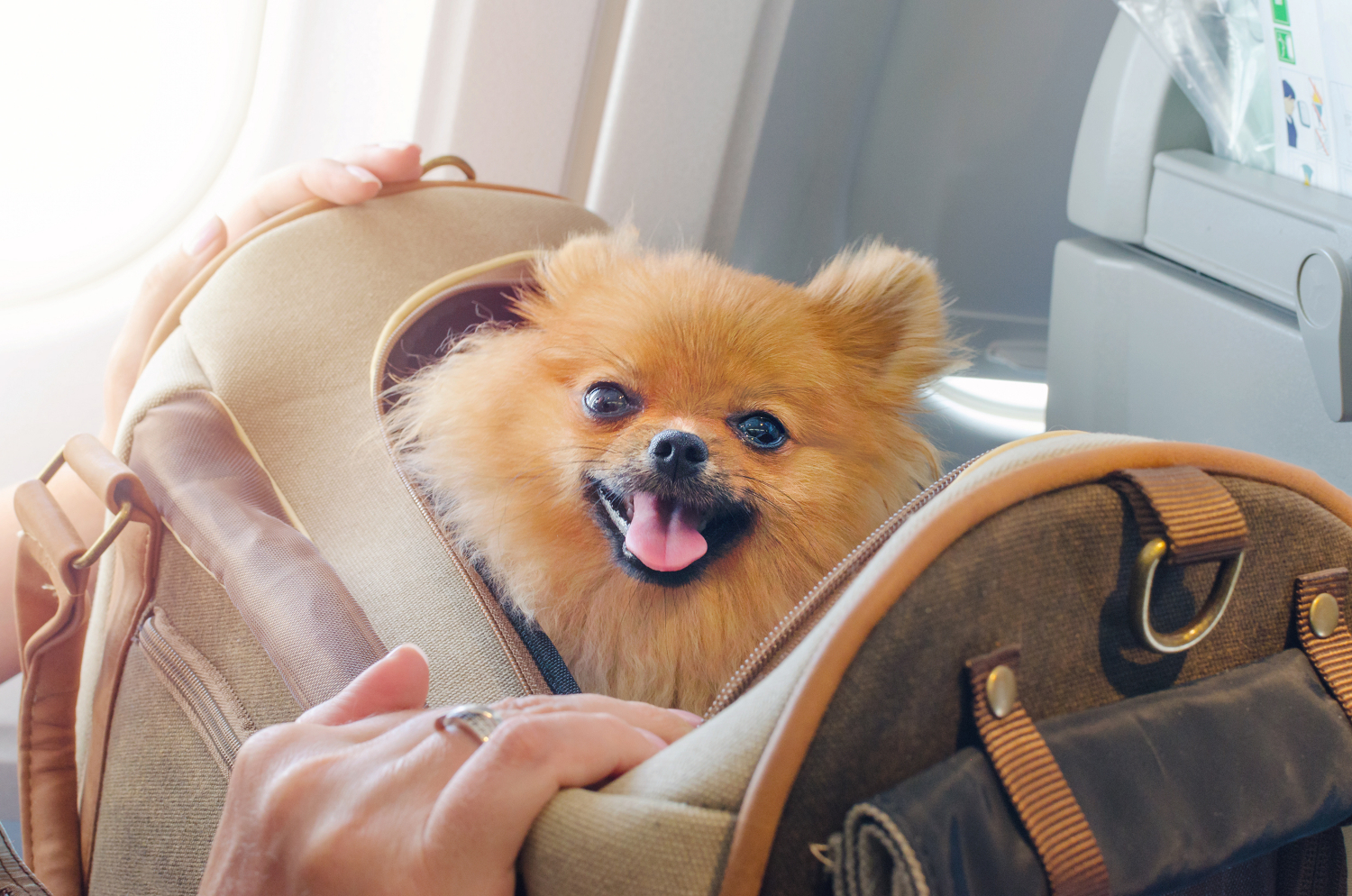 Wherever you are in the world, your four-legged friend deserves to be protected with insurance. With a policy in place, your pet can get emergency care when it needs it most, without you having to pay a large vet bill at the end.
Dog insurance, lifetime cover from Purely Pets has no upper age joining limit, so both playful pups and golden oldies can get the cover they deserve.
When you choose to insure your dog with us, you enjoy the following:
Access to our 24/7 vet video consultation service
15 levels of lifetime cover to choose from
Protection for your dog up to £15,000
Payments made direct to your vet
Easy management of your policy and claims with the online portal
To protect your loyal companion through every stage of its life, contact the Purely Pets team today.
* Travel advice, rules and regulations may change from time to time, so it is always a good idea to consult the Gov.uk website for any information first
Helpful Pages
Recent Posts
Pet Insurance Quote
98% claims paid *
Claims paid directly to vet
24/7 vet video consultations
Interest free monthly payments