Should you get a kitten for Christmas?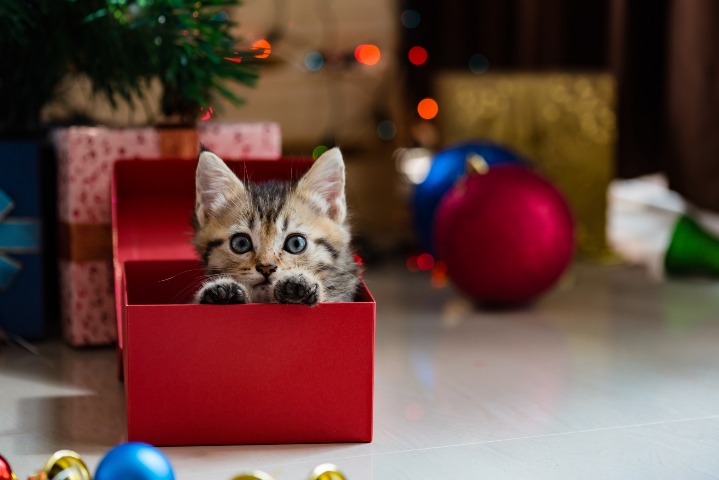 The kids are crazy for a new kitten but should you give a cat as a Christmas present? Let's see what it takes to build a happy cat household, long after the festivities are over!
So, you're thinking of getting a kitten this Christmas and who can blame you? With the festive spirit in the air, your new furry addition will go down a storm.
Just picture your fabulous new feline playing with the Christmas wrapping before snuggling up on grandpa's lap. Sounds adorable, right?
But once Christmas is over and school and work begin again, who's going to dedicate their time to looking after your new addition? And have you got the funds to keep up with routine vet visits?
Let's take a deep breath and think for a second.
Unfortunately, many Christmas cats soon become homeless, as owners realise they just can't give them everything they need.
A pet is for life, not just for Christmas. So, before you make the big decision, ask yourself if you're really ready to bring a kitten home.
Let's take a look at how much you should budget for your new pet, what you need to create the right environment and how UK pet insurance can help save the day in an emergency.
So, are you ready for a new kitten?
You've been wanting a pet for ages now and have your heart set on a little kitten. They're hard to resist, we know – these tiny fur babies are purrrfect in every way.
But just wanting a cat companion isn't enough.
You might be ready to smother it with love and affection, but can you afford the ongoing care? Perhaps vet bills aren't a concern, but have you got hours to spend with your pet every day?
Choosing to bring a feline home is a big decision and one you need to be absolutely sure of before welcoming them into the family (which is why gifting a kitten is never a good idea!).
Need a little help? Ask yourself these questions to see whether a kitten should be top of your Christmas list.
Is everyone happy about the new addition?
Do you live alone or with family or friends? If you're by yourself, you can make a personal choice. Great! When it's not just you, though, you'll need to check everyone is on board with the idea.
Not everyone loves cats – hard to believe, we know – and the thought of a mog meowing or shedding hairs all over the place might make them uncomfortable.
That's not all. Some people are allergic to felines, so unless you want your other half sneezing non-stop, it might not be right for you.
Before you go any further, make sure everyone's happy with the decision.
Can you afford the ongoing expense?
When you think of buying a cat, you consider the initial cost, a bed, food bowls, litter tray, collar, scratching post, and a few toys. Not that much in the big scheme of things.
It doesn't stop there. You'll need to get your cat neutered, microchipped, and covered with UK pet insurance as soon as possible. OK, is that all? Nope!
You'll need to budget for food and litter weekly and pay for ongoing routine treatments that aren't included on your UK pet insurance plan, like vaccinations and regular grooming.
What about when you go on holiday? You'll need to consider a pet sitter, too, unless you have family or friends who'll be willing to pop in and cat-sit now and again. 
We'll go into more detail about the cost of keeping a kitten shortly, but if you think the ongoing expenses are too much right now, you might need to put your cat-owning plans on hold for a while.
Do you have enough time to dedicate to your new pet?
Cats are pretty low maintenance. They're independent creatures who love their own company, aren't they? Well, to an extent. Felines might not need to be walked twice a day or petted as much as their canine counterparts, but they still need your companionship.
It doesn't stop with a morning stroke or evening cuddle either. You'll need plenty of time free in your schedule to make sure your growing kitten has:
A clean and cosy bed
A constant supply of fresh water
Regular and nutritional meals
A clean and fresh litter tray
Plenty of mental and physical stimulation
Their teeth brushed and fur combed
Regular vet check-ups
If you have a particularly needy kitten, you might need to spend more time with them than you expected. Although separation anxiety isn't overly common in cats, it can happen.
In this case, call your vet for some tips – they may refer you to an animal behaviourist. Got UK pet insurance with us? Use our 24/7 vet video service for helpful advice whenever you need to.
Is now the right time?
You're sure a kitten is the perfect addition to your family, but is Christmas really the best time of year to welcome them into your home?
The festive season is busy for many of us and looking after a new kitten could be the last thing on your mind – especially when the turkey's burning, the neighbours are complaining about the music and someone spills red wine on the carpet yet again!
Peace. Quiet. Routine. These are all things cats love, and they're unlikely to get any of them during Christmas. They might even get their teeth into something that could be toxic to them, and you'll be claiming on your UK pet insurance before you know it!
There are a few foods and plants we love during the festive season but that are extremely dangerous to felines:
Grapes and raisins (so no Christmas pudding!)
Nuts
Dairy products – milk is a no-no
Chocolate
Alcohol
Caffeine
Onions and garlic
Cooked turkey bones (check what to do if your cat is choking on bones) – the meat is fine for them to eat but must be unseasoned and only given in small amounts
Xylitol (artificial sweetener in lots of your favourite sweet treats)
Holly
Mistletoe
Poinsettia
Suspect your kitten has eaten something they shouldn't? Call your vet immediately or the Animal Poison Line on 01202 509000.
So, unless you enjoy a quiet Christmas without many changes in your regular routine, you might want to wait until things get back to normal before buying a kitten.
What do I need to do to prepare my house for a kitten?
If you just can't wait to welcome your new kitty, you'll need to start getting your home ready for its arrival.
Make sure you get their bed, food and water bowls, and litter tray all ready before you pick them up.
Your new kitten will also need somewhere to flex those newfound claws – ideally a scratching post and not your sofa – as well as some other toys to keep them stimulated.
They'll also love somewhere to hide and climb to keep them out of mischief!
Kitten-proof your home by blocking off any small gaps they might be able to squeeze into and tucking loose cables away. This is especially important around Christmas with all those lights and decorations about.
Sort out their microchip, vaccinations and UK pet insurance plan before they come home to save time for bonding once it arrives! Purely Pets cover kittens as young as 8 weeks old, so you can protect them from the moment you decide they're yours.
Where can I buy a kitten?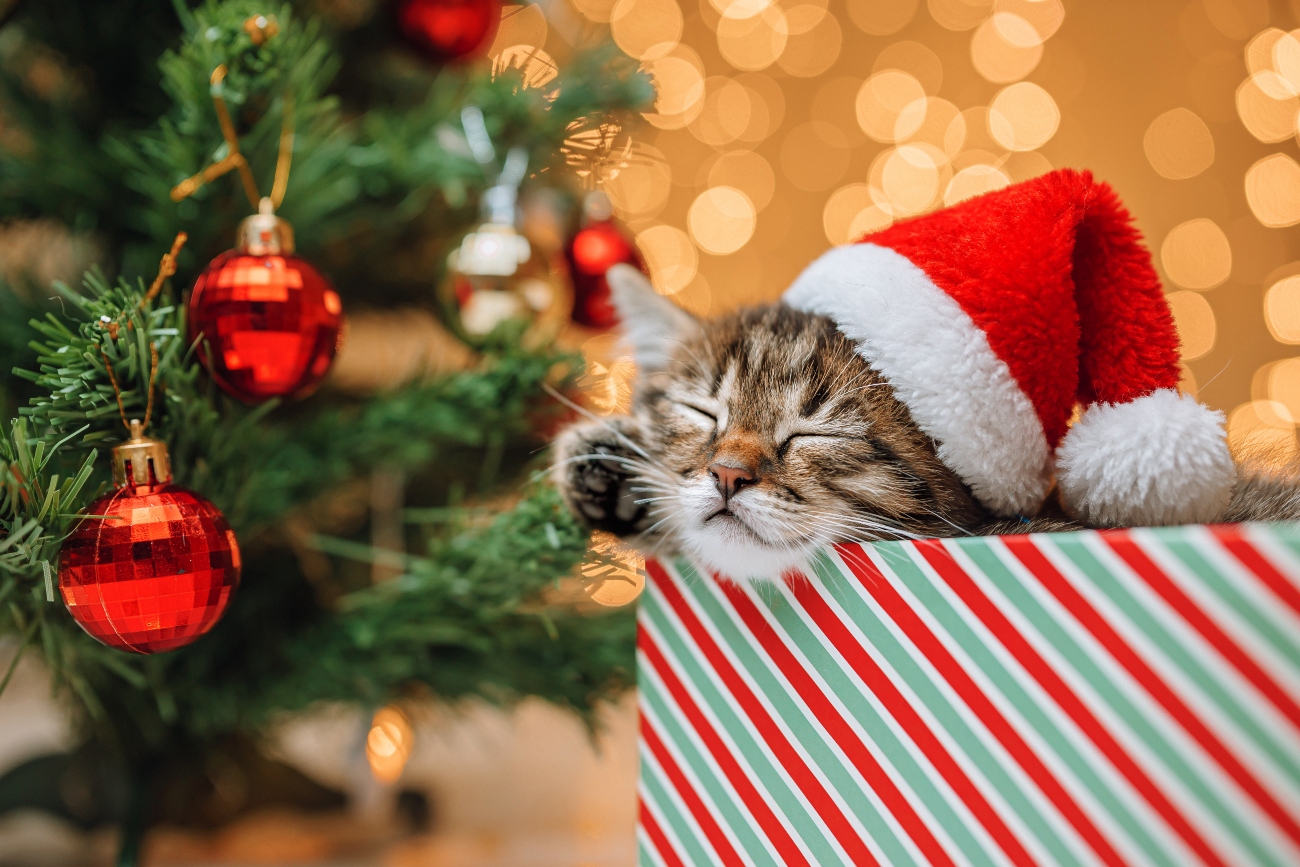 There are two main choices when it comes to where you'll get your kitten – breeders and rescue centres.
There are good breeders and bad breeders, so you need to be careful when going down this route. Make sure the cats are well looked after and kept in ideal conditions. We've got some key questions to ask below.
Alternatively, why not pay a visit to your local rehoming centre? These organisations bring in kittens from all walks of life and give them a second chance at finding their forever home.
Adopting a kitten can save you quite a bit of money and also comes with a few other benefits. Most cats will come:
Neutered
Wormed
Microchipped
Vaccinated
Charities like these also tend to provide ongoing support and help with training if needed. And with a new mischievous mog at home, any extra tips will be more than welcome, especially if you're a first-time owner!
Questions to ask when buying a kitten
Whether you find your new fluffy family member in a rescue centre or from a breeder, you'll need to prepare a few questions before your visit. The RSPCA recommends asking the current carer:
When and where was the kitten born?
Can I see the mother?
Are they friendly?
Has it been well socialised?
Are you selling lots of other litters or just this one?
What else can you tell me about this breed?
Have they had any vaccinations?
Once you know a little about the kitten's first few weeks of life, it's time to pay them a visit. Never commit to buying a feline before you've met both them and their mother. Cats need to stay with their mum until they're at least 8 or 9 weeks old.
What should you expect in a healthy, happy kitten? They should be alert, playful and have no obvious health issues. Of course, no one can tell what underlying medical concerns might arise, but with UK pet insurance in place, you can get them treated in an emergency.
Assuming the conditions are as they should be, and the kitten and mother are both healthy, you can make your decision.
Before bringing your new pet home, don't forget to ask what litter and food they're using to start off with the same. This will help them settle in. If you want to switch either down the line, do so gradually to avoid any upset.
So how much does a kitten cost?
We've outlined some of the costs of owning a cat above, but just how much should you expect to part with? If you get your kitty from a breeder, it could set you back well over £1,000 depending on the breed.
Rehoming centres are a much better option for most prospective pet parents, as the initial cost of buying your kitten is very little – usually around £100-£150. You'll also be saving a homeless cat and making room for more felines to find a family.
And after that? According to Battersea Cats and Dogs Home, keeping a cat costs around £1,500 a year.
What does your tiny kitten need that costs so much? To begin with, you'll need to get a few one-off purchases, like:
A bed
Scratching post
Litter tray
Cat carrier
Food and water bowls
Collar
Cat flap
Microchip (not a legal requirement in cats, but a wise choice)
Toys
Of course, all the items above will wear out in time, so you'll likely be replacing most of them at least once or twice a year.
Then there are the ongoing expenses like:
UK pet insurance (costs vary depending on level of coverage)
Routine vet checks, vaccinations, and other non-emergency treatments (paid as you need them or with a pet health plan through your vet once a year)
Pet-sitting (prices vary greatly depending on whether you need the care every day while you work or just for holidays)
Tempted to skip vet checkups and insurance to save a few quid? It's a false economy in the long run.
And we're sure the last thing you want is to see your feline friend suffering or to join the long list of owners who sadly had to give up their pet.
4 ways to save money on cat ownership
We get it. It's tough right now with the cost of almost everything going up. Even pet food banks are busier than ever.
But instead of skimping on the essentials, here are a few ways you can make cat ownership a bit cheaper.
1. Buy food in bulk
Yes, it costs more to begin with, but in the long run, buying in bigger quantities can save you a significant amount.
2. Search the charity shops
Does your kitten really care where you get their toys from? Of course not!
So, why not raid your local charity shops to see what bargains you can pick up? From pet beds to top-quality second hand toys, you can find everything. 
3. Groom them at home 
There's nothing quite like a day at the kitty spa but if finances don't allow for that, why not groom them at home instead?
Combing fur, brushing teeth and carefully clipping nails aren't so difficult with a bit of practice. They're a fantastic way to bond with your new furry family member, too!
4. Talk to a vet 24/7
Got a UK pet insurance policy with Purely Pets? There's no need to take your kitten to the vet every time you've got a question. Use our unlimited 24/7 service if you're concerned about their health and you could save yourself the cost of an appointment.
What health concerns are common in kittens?
Whatever pet you own, it's important to know which medical issues are most common, so you can spot when something's not quite right.
Worried about vet bills piling up if your kitten becomes ill? Your UK pet insurance can help cover the costs of treatment and save some of those nine lives!
So, what health concerns should you be looking for in your new kitty?
Upper respiratory infections – These can turn fatal if not treated in time. Watch out for sneezing, a runny nose and yellow discharge from their eyes. As soon as they experience breathing problems, take them to the vet.
Worms – Roundworms, hookworms and whipworms can all make your new friend their host. If you notice diarrhoea, weight loss and difficulty thriving, get them checked ASAP!
Feline distemper – With up-to-date vaccinations, this nasty illness can usually be avoided, but if you see your kitten vomiting, not eating and suffering with white, mucousy diarrhoea, they need urgent attention.
Fleas –These tiny pests multiply quickly but can easily be treated with over-the-counter meds. Look out for excessive itching and hair loss.
Ear mites – These transfer from one cat to another, just like fleas, and also cause a mega itch mainly around the ears. Your kitten will shake its head and you might spot crumbly white bits in their ear (digested blood from the mites). Some liquid ear drops will soon sort them out.
Can my cat eat the same as me this Christmas?
Yes and no. There are some festive foods that are harmful to cats, even fatal, so you can't just leave them with the leftovers.
So what titbits can you sneakily slip your kitten without it leading to a potential claim on your insurance?
As long as these items are unseasoned to avoid stomach upset, you can safely share:
Potatoes of any kind – even sweet ones!
Brussels, broccoli, carrot, peas, beans and pumpkin
Seedless apples
Cranberry sauce
Cooked meat (without the bones, of course)
Prawns
Steer clear of any sweet treats. Christmas desserts often contain chocolate or raisins, which can both be fatal to small cats. And watch out for any of the other toxic food, drinks and plants we mentioned earlier.
As ever, you shouldn't feed your cat with large quantities of any foods we normally eat.
UK pet insurance from the specialists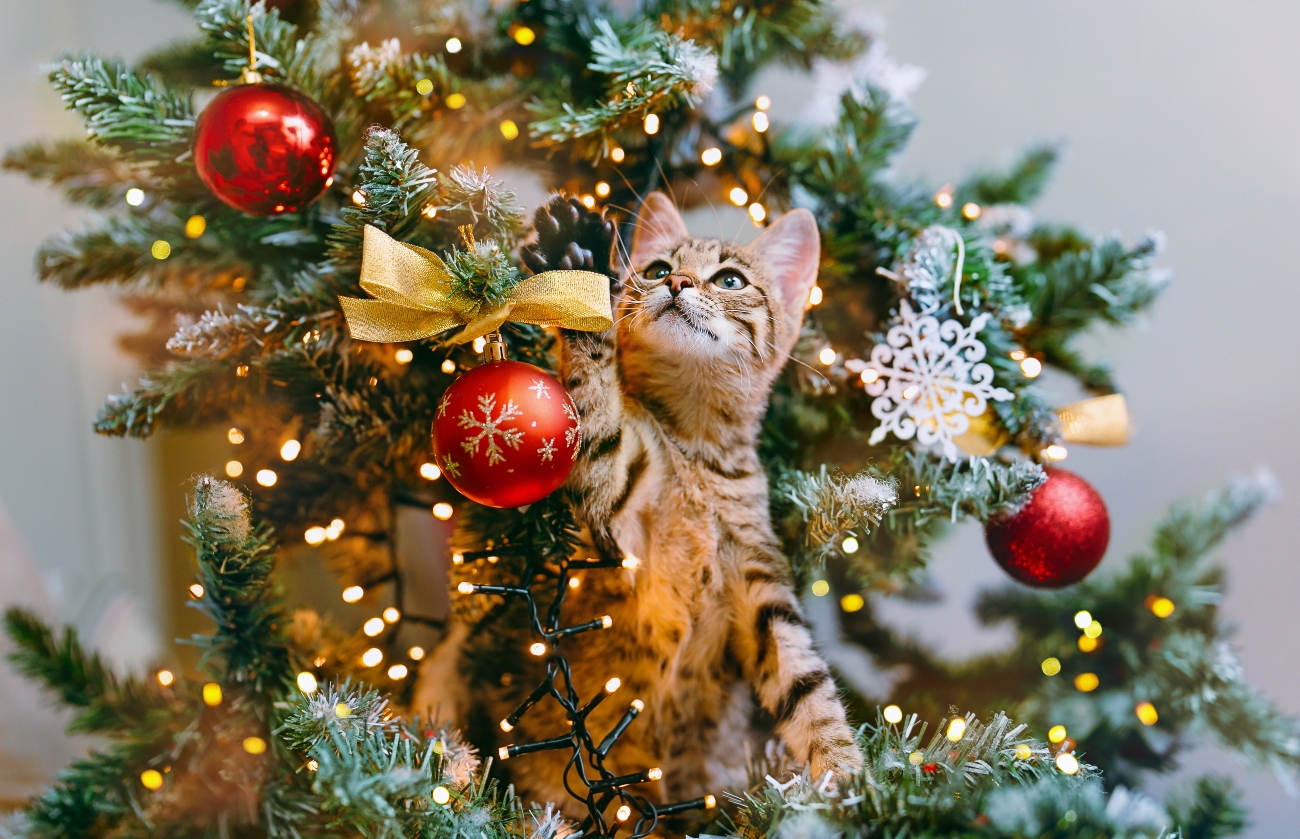 With your new bundle of fluff, you're bound to enjoy hours of playtime and cuddles. You do everything possible to keep them happy and healthy – we know that.
Unfortunately, you can never tell when a sudden illness or accident will affect your tiny cat, and that's where UK pet insurance comes in.
At Purely Pets, we care about your new addition as much as you do, which is why we offer various levels of lifetime cover to protect your kitten.
All our plans come with access to our 24/7 vet video calls and making a claim is quick and easy online.
What are you waiting for? Get your kitten covered from just 8 weeks old with Purely Pets – the best Christmas present they could ever have.
Helpful Pages
Recent Posts
Pet Insurance Quote
98% claims paid *
Claims paid directly to vet
24/7 vet video consultations
Interest free monthly payments